The Pfeil Swiss made – Carving Tool Palm Handled Set C 6 piece features Swiss-made ¾" hand carving tools. They are top of the range when it comes to durability and precision. The handles have been designed in such a way that they will fit into your palm very comfortably. 
The improved grip you will receive from this product will allow you to perform very intricate and complex carving manoeuvres. It will therefore reduce any wastage of wood and materials for the consumer. It is pretty durable as the hardwood used to form the handle has been chemically preserved.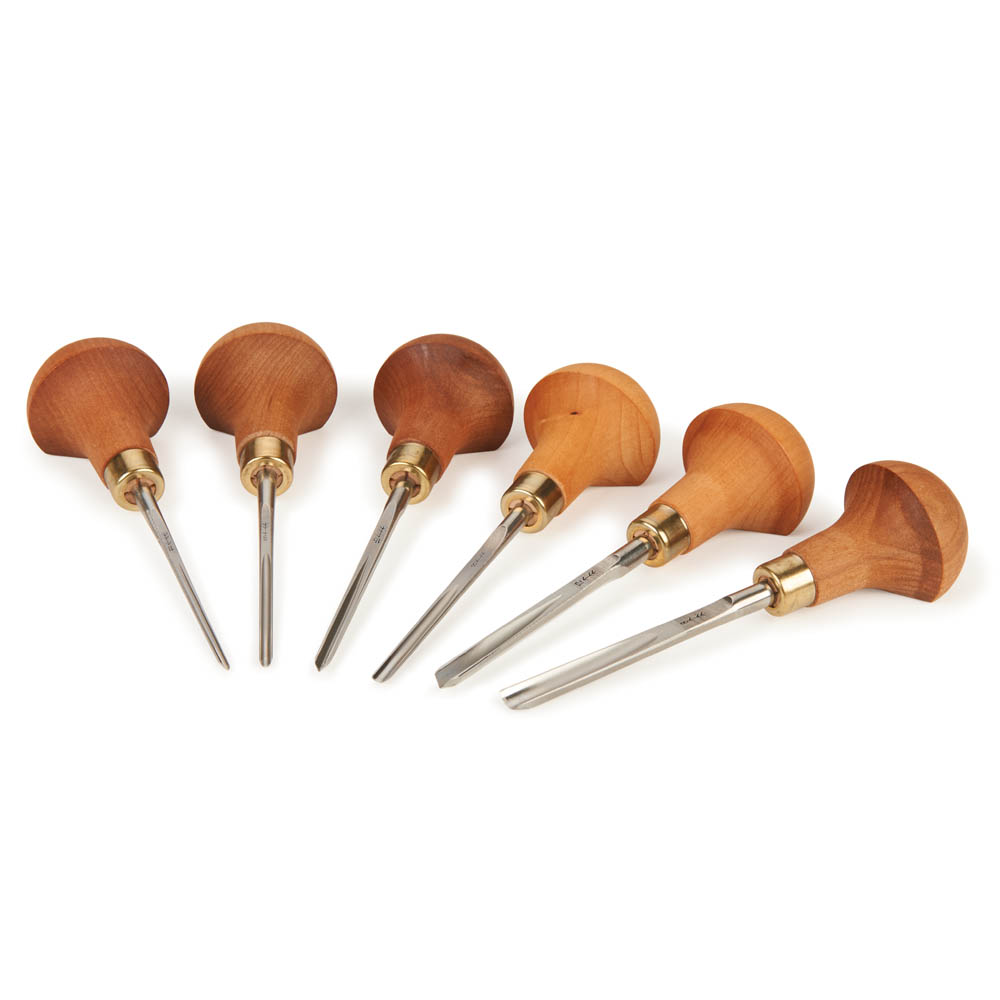 It will, therefore, not rot or crack, meaning you have increased value for money. The blades themselves are very sharp and made from unique alloy material. This means that you can expect only to perform maintenance occasionally and not so often. It is ideal for home professionals looking for something to take their art to the next level. 
It is a beneficial product that offers various blades to complete any task you can set before. You should be expecting to pay a slightly higher amount than the other tools within this range. Even so, this would be money well spent. 
If you would like to know why this product is well recommended, then stick around. We'll look at some of its more impressive attributes, its durability, and its usefulness. Let us begin.
Impressive Attributes
Hardwood Handles
These 3/4" Hardwood handles that have been preserved by chemical means offer the user extended durability. With these handles, the user can expect to use these tools for a long time because they will not likely rot or form cracks. 
This is quite a big problem for several cheaper handles used by various manufacturers. They have been designed in such a manner that they will fit the palm of your hand for a firmer and more stable grip. This will allow you to draw much more intricate designs. 
You are not likely to encounter many problems when dealing with low cuts or high cuts. If you do not have enough arm strength to carve out wood, you do not have to worry because this product does most of the hard work for you. Given that they have been defined as palm tools, it becomes much easier for you to operate them as your fingers can guide the blade whilst you work.
Durable Alloy Steel 
The manufacturers have chosen to go with the special alloy steel to manufacture the blades of these knives. This is one reason why this product is more expensive than the average option you can purchase on the market. This steel has been hardened to prevent it from bending while carving out a complex piece of wood. 
The blades come already pre-sharpened by the manufacturer. Every single blade within this set has been hand sharpened. The implications of this are that you can expect a more precise and accurate cut every time you are carving. This is important when attempting to do very intricate work because blades that dull easily will only cost you more in the long term.
Usefulness 
Given that this set of knives is mainly for professionals, it would be a crime if they did not have additional versatility. The manufacturer of this product has included several groups of different tools to help you attempt a wide range of different designs. Creativity has no limits, and the tools that you use to carve out your artistic projects should have no limits as well. Within the set of knives, you shall be getting blades that can part, vein, and gouge. These are the primary tools required to handle smaller slabs of wood precisely. 
Maintenance
Given these tools' professional nature, it would be pretty unfortunate if they were difficult to maintain. Maintenance should be a part of every craftsman's weekly regiment, although the manufacturers of this product have made it slightly easier on you. 
They have incorporated special alloy steel that has been heat-treated to prevent it from going dull very quickly. This means that you do not have to worry about constantly sharpening these tools for the best results. They have also included palm wood handles that have been varnished to maintain this strength. This means that you will not have to purchase varnish separately and consistently preserve these tools. 
Warranty
There is no warranty provided for this product.
Price
This product has been priced in the upper-middle range of products within this market range. They have priced it in this manner because they have used high-grade materials to provide a long-lasting effect. It makes use of special alloy steel and preserved hardwood. 
These two materials are not cheap and do not break easily. Therefore, you can rest assured that it will give you good value for money when purchasing this product in the long term. This is very important because you do not want to get into a situation whereby the handle has cracked or the blade has bent whilst you are carving.
Verdict
In conclusion, this is a great product to purchase if you are a professional home carver. It is slightly more expensive than the beginner set of tools you can buy, but it will last longer and more precisely. The materials used to formulate this product are of very high quality and durability. 
This is quite important for people who need to produce a consistent set of woodwork pieces for work purposes. It makes performing low cuts and high cuts much more straightforward, given the fact that your finger can easily control the knife. 
It is a Swiss-made product that the manufacturers have hand sharpened to ensure that they are ready to go the moment you open them out of the box. It comes with all the different blade categories that you would need to perform almost any project. 
It requires very little maintenance; therefore, you do not have to worry about consistently sharpening or varnishing the product. It is pretty functional and durable; therefore, it is a product that we would recommend.
Latest posts by Herbert S Dawson
(see all)