The Ramelson Carving Tool Beginner's Full Size Set 6 piece will offer you precision, stability and versatility when carving all in one package. It has been designed for beginners and experienced carvers. It will provide the user with an easy and low maintenance regime. 
This should free up additional time to work on the projects you enjoy. It is made from high carbon steel blades that have been pre-sharpened. These blades are very durable and will not bend or break if you apply a lot of pressure to them when carving. 
They are sharp enough to deal quickly with soft metals, plastic, and wood. The versatility of the blaze is also impressive. You will be able to part, chisel and gouge with the options provided. The handles are made from durable hardwood that has been varnished.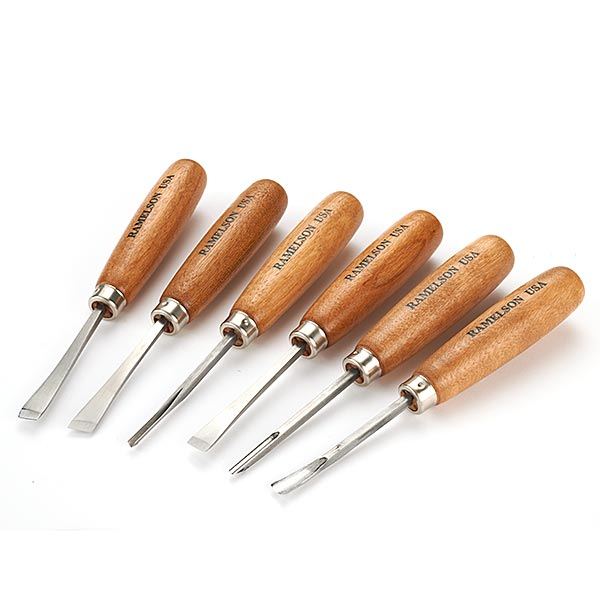 This means that it will not rot or decay even if you do not use it for an extended period. Therefore, if you are looking for something that can provide you with a host of abilities, then these knives are good options to consider. If you want to know more about some of the impressive attributes, i.e., the blades, the handle and our overall verdict, then hang around for the rest of the article.
Impressive Attributes
Carbon Steel Blades
The manufacturer has added high carbon steel blades to improve precision and durability. Customers will appreciate this feature because it means less maintenance. It would help if you had additional time on your hands as a result. This is because the blades will remain consistently sharp. You will be able to use this blade as a mallet to provide you with versatile options for carving wood. 
It is strong enough that even when you apply pressure either physically or with a hammer, the blade will not bend nor break. Sharp and robust blades are often excellent options for a beginner. This is because they have not developed enough experience to know how much strength to apply when they begin carving. This may result in them breaking their tools or wasting the wood by damaging it. 
Durable Hardwood Handles
These wooden handles work wonders when it comes to comfort and stability. The size and design chosen by the manufacturers fit perfectly in the palm of your hand. This design will allow you to use your hands to guide the blades as you work with them. The durability means that you can gently hammer down these blades to perform more profound and more precise cuts. 
The wood has been varnished to help prevent rotting and decay. You will be able to use these tools in almost any climate with very little damage to them. The only disadvantage of these wooden handles is that it is difficult to use them without gloves. When you work without using these gloves, your palms become sweaty, and therefore the grip becomes very loose. 
Versatile Functionality  
For any beginners on the market, a versatile set of knives is a convenient option to consider. You will need to purchase a set of knives that can perform all the major cutting tasks. This set of knives can perform a whole host of cutting activities. It comes with a chisel, gouges, and paring knives. These have already been pre-sharpened at the factory and will be ready to go from the moment you have them. 
The versatility of these products is quite essential. It will allow a beginner to get a feel for the hobby before they go out and invest a lot of money into purchasing expensive knives.
Given that these knives are made from high carbon steel, they should also tackle a host of other soft materials apart from wood. You should be able to quickly deal with smooth metal and plastic carving due to the durability of the blades. You will also be able to use this with a mallet or just your hands. This means that the level of carving that you can perform is much greater than other knives on the market.
Warranty
There is no warranty provided for this product.
Price
The price tag attached to this product has been set in the upper to middle range compared to the other products on the market. It is pegged as something that beginners will find a lot of pleasure in using. It has also been designed so that even experienced carvers will be able to use this product. In this regard, it is an allrounder as a set of carving tools. 
Unfortunately, one of the main disadvantages to the somewhat hefty price tag involved is that the manufacturer provides no storage container. This would have gone a long way in keeping all the knives in one place when you are not using them. It would have also made it very safe for you to travel around with the blades in your bag.
Verdict
In conclusion, this is one of the top products you can purchase if you are just getting started with wood carving. It has been designed with a high carbon steel blade that will allow you to perform very precise and accurate cuts on wood. Its versatility stretches past carving wood. 
The strength of the edges should enable you to cut through soft metals and plastic as well easily. The handle is made from very durable hardwood, which means that you can expect it not to rot or decay for quite some time. 
You should also be able to hit the blades with a mallet if you intend to make a deeper cut on the carving materials. The wood has been varnished chemically, which means that it will not be pounced upon by insects that eat wood. The price of this product is relatively steep, given that it does not come with a storage container. 
This would have been quite handy to allow the user to store the knives for transportation safely. In conclusion, it is a product that we would recommend for beginners or experienced carvers who want to work on minor projects within their workshop.
Latest posts by Herbert S Dawson
(see all)