Record Power RPCV12 Carving Tool Set
The Record Power – Carving Tool Full Size Set is a 12-piece carving set that offers both beginners and professionals an advanced option for improving their carving skills. The alloy spring steel blades are designed for optimal durability. The blades are completely corrosion-resistant.
This means you can use them for quite a long time regardless of their environment. Many users appreciate this feature because it increases the value of money they get when buying this product. When cutting various materials, you can apply strong pressure and force on the blade.
Its impressive strength allows you to carve through various materials, including soft metals. The handle of this product also stands out. It has been ergonomically designed. So, the user should be able to use these blades in his preferred hand.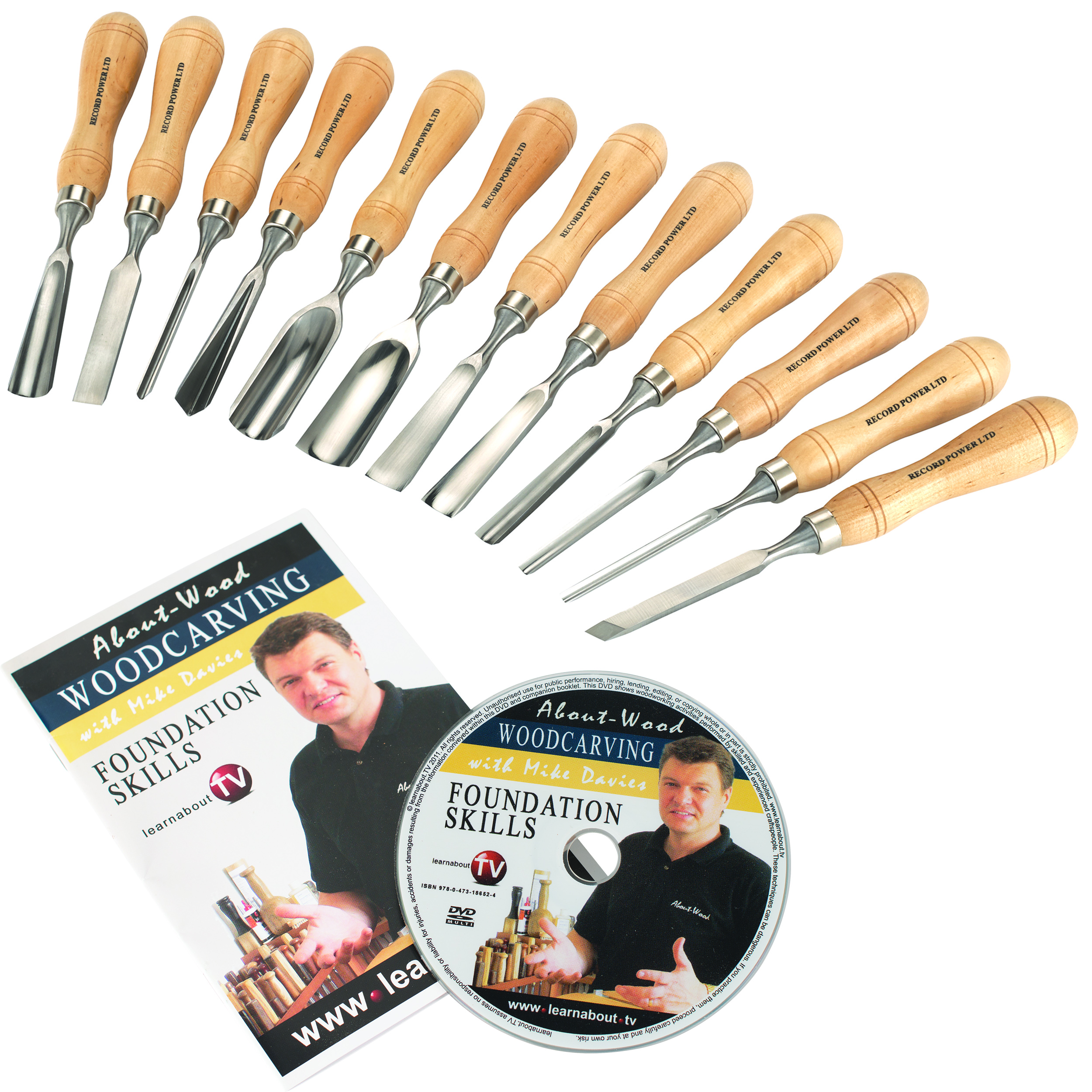 The edge has been well secured with a tang to prevent splitting. This means you should be able to hit this blade with a hammer to perform deeper cuts. The manufacturers have also included an educational DVD booklet for people lacking inspiration. This comes with a wide range of ideas to try out if it is just your first time getting started. 
For more information on what this product can offer, stick around as we examine its best features. We shall also look at the price charged for this product. Ultimately, we will provide an overall verdict on whether you should purchase this.
Best Features
Spring Alloy Steel Blades
The blades used on this product are 100% corrosion resistant and have been designed ergonomically. This is an impressive feature because it will prevent rust from occurring regardless of the environment you use the blades.
 The blades come pre-sharpened. They will maintain this sharpness for a respectable amount of time. The blades are durable, given that they are made from spring alloy steel. This means that they are unlikely to snap if you are using them if you put additional pressure on them. 
This is good for beginners unaware of how much strength they need to apply when carving wood. Beginners often lack the appropriate technique for cutting and engraving wood; therefore, purchasing durable blades will allow them to explore the art. Using durable blades will also enable the user to branch out into different materials. They should be able to adequately handle very soft metals and plastics in addition to hardwood.  
Ergonomic Handles
These handles will feel natural in your palm because they have been designed ergonomically. The grip should come easy to you, whether a novice or professional. You will be able to use these with either hand that you prefer. 
This is advantageous for people who usually buy knives suited for use on the one hand, which is not their main hand. This means that you will be able to complete very intricate and complex designs with ease. 
The handle and blade have been locked in place using a ferrule. This vital feature will prevent the edge and wood from splitting each other. You do not want the knife to cut through your handle if you use a mallet to hit the blade into the carving material. This safety mechanism is well appreciated and will ensure strength and durability.
DVD & Educational Booklet  
The manufacturers of this product have been considerate enough to include an educational DVD booklet. This will allow woodcarvers of various skill levels to upgrade their performance. It comes with many exciting and valuable tips and tricks that you can use to perfect your wood carving craft. 
It is specially tailored to the blades included within the carving set. It is based on the knowledge of an accomplished and experienced woodcarver who simplifies the process for any novices. It also comes with a wide range of projects and collections to try out if you have no inspiration. 
Warranty
The manufacturers have not included a warranty for this product.
Price
Given that this product comes with 12 blades that can handle all the sections involved in woodcarving, it is fair to say that the price charged is reasonable. The blades are made from very high-quality alloy steel. This means that you can expect the edges to stay corrosion free for the duration of the time you use them. 
They have been pre-sharpened to provide the user with a seamless unboxing experience. The handles on this blade are made from durable hardwood that is well secured. This means that even if you use the blades on this product with intense force, they are unlikely to split or crack. The only disadvantage here is that the manufacturers have not included a plastic case for you to store the knives in.  
Verdict on the Record Power RPCV12 Carving Tool Set
Overall, the Record Power RPCV12 is one of the outstanding options you can buy on the market today. It comes with 12 blades that can perform various cutting tasks. All the blades are made of high-quality alloy spring steel. This means you can use these blades for various activities, as they will not bend or break regardless of the force applied. It also means you should hit the blades with a hammer to make deeper and more penetrating cuts into the material you are cutting.
The steel is polished and pre-sharpened before shipment, so you can use the knives immediately upon receipt. Also, they will not rust even if you use them in a humid environment.
The manufacturers have designed the handles ergonomically, which means they fit well in hand and can be used with both hands. The blade and the handle were connected with a strong tang. This prevents the blade and handles from breaking apart.
In conclusion, the record power 12pc carving set is an excellent product for a beginner. It also comes with an educational booklet that gives you ideas to try as a beginner. We recommend this product even though it does not come with a carrying case.
Latest posts by Herbert S Dawson
(see all)