Wood River has produced a highly versatile set of five-inch carving knives. You can use them to carve very intricate designs effortlessly. Made of stainless steel and hardwood, this set offers the durability and precision you desire.
The product handle is designed for precision and stability, even for people without excellent arm strength. The blades do not rust even after years of use, offering good value.
Transporting and storing this product is easy, as it comes with a plastic case. The size and design of this product make it very practical in any woodworking shop. If you want a complete overview of this product's most impressive features, warranty, and price, then stay here.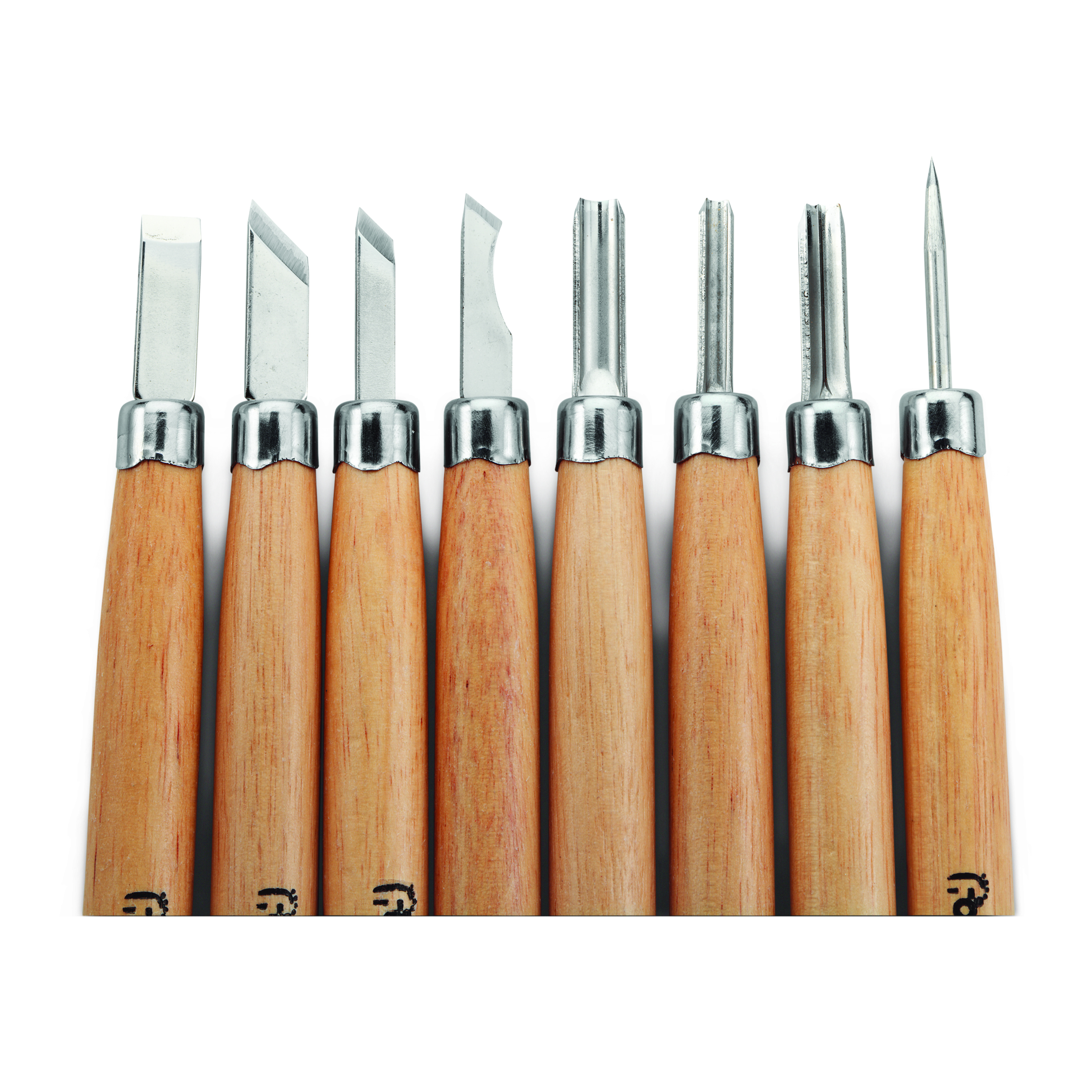 Impressive Features
Extra Control
Control is vital when carving out a piece of wood with fragile blades. This carving set has been designed to handle softwoods. You can easily carve small projects by holding the knives as a pencil. It, therefore, feels like an artist's blade. 
They have been equipped with five-inch hardwood handles that make a substantial difference in the comfort you experience while carving. Carving is well known to cause calluses on the hands, and these handles guard against that safely. All the blades are one inch in size and are made from stainless steel. Therefore, you can maneuver these quite easily, making them an excellent option for people who do not possess a lot of arm strength.
Versatility 
For any beginner starting, it is essential that you can undertake a wide variety of different projects. The good thing about this set of knives is that they have included everything a beginner might need to carve out a piece of wood. There are eight pieces included in this set of knives. 
Each knife can perform a different task: scooping, carving, or shaving. The collection comes with a chisel, gouge, part, and point blades. All the knives in this set come pre-sharpened and require little effort from the user. The detail you can engrave onto the wood will be highly accurate and precise, making this a standout feature.
Storage Case
If you plan to pay this amount for a set of knives, then the worst thing that can happen is to misplace a couple. This often happens when you buy a set of knives that do not come with any form of storage. 
Fortunately, you will have a plastic storage case on this set to have a section for every knife. This will mean that you can safely store these away once you have completed your work for the day without misplacing any. 
It will also prevent the knives from being exposed to the elements, which may reduce their lifespan. This will likely also protect the blade against any unnecessary dents and cracks. Transportation becomes much easier as you will be able to carry these from workshop to workshop. It would be impractical and dangerous to move around with eight knives in a backpack that does not have a carrying case. 
Durability
After a period of consistency, you will find that the durability of a set of carving knives is quite paramount. When you purchase a set of knives towards the lower end after the budgetary scale, you may notice that they will quickly become blunt, or the wood will begin to rot. 
Fortunately, the wood handles on these knives have been well preserved. It is unlikely they will start to rust or corrode even with extensive usage. The same goes for the stainless-steel blades that come pre-sharpened. These will likely last you for quite a long time before you notice any trouble with them.
Warranty
There is no warranty provided for this product.
Price
This product can be considered relatively cheap when you compare it to many other options on the market. Many customers will appreciate this because it is not a professional option but something you would purchase as a beginner. 
In such a scenario, as a beginner, you are not likely looking to spend a large amount of money on a hobby that you may not fully invest in yet. This product provides good value for the money you will pay, given that it is made from durable materials and comes pre-sharpened. 
Verdict
In conclusion, this is a product that I would recommend for a beginner. The product has a pervasive range of uses, and versatility is essential among beginners. This set has eight knives, allowing you to perform a wide range of carving tasks without too much hassle. 
Therefore, if you are getting into wood carving, you will find out if this is something you will enjoy upfront without purchasing costly tools. The stability and control provided with the five-inch hardwood handles on this product make it ideal for people who have not been carving for a very long time. 
If you are starting, you are unlikely to have developed enough hand strength to carve consistent and stable designs. The materials used on these blades are stainless steel and hardwood, which will not become rot or rust quickly. 
To help you carry around and keep track of where your knives are, they have provided a plastic storage case that will significantly assist in transporting these knives. The only downside of all the features combined is that the manufacturer offers no warranty. However, this is an excellent product to purchase if you are a beginner.
Latest posts by Herbert S Dawson
(see all)