Are you looking to choose between the Dremel 8220 vs 8050? I have used both rotary tools, which have pros and cons. We look at the battery system, attachments, accessories, speed, and power to differentiate the two. We encourage you to draw a list of your expectations and match them with each tool's features. Below is a discussion on both rotary tools as I explain further. Let's find out how the Dremel Micro 8050 compares to the Dremel 8220.
Overview of the Dremel 8220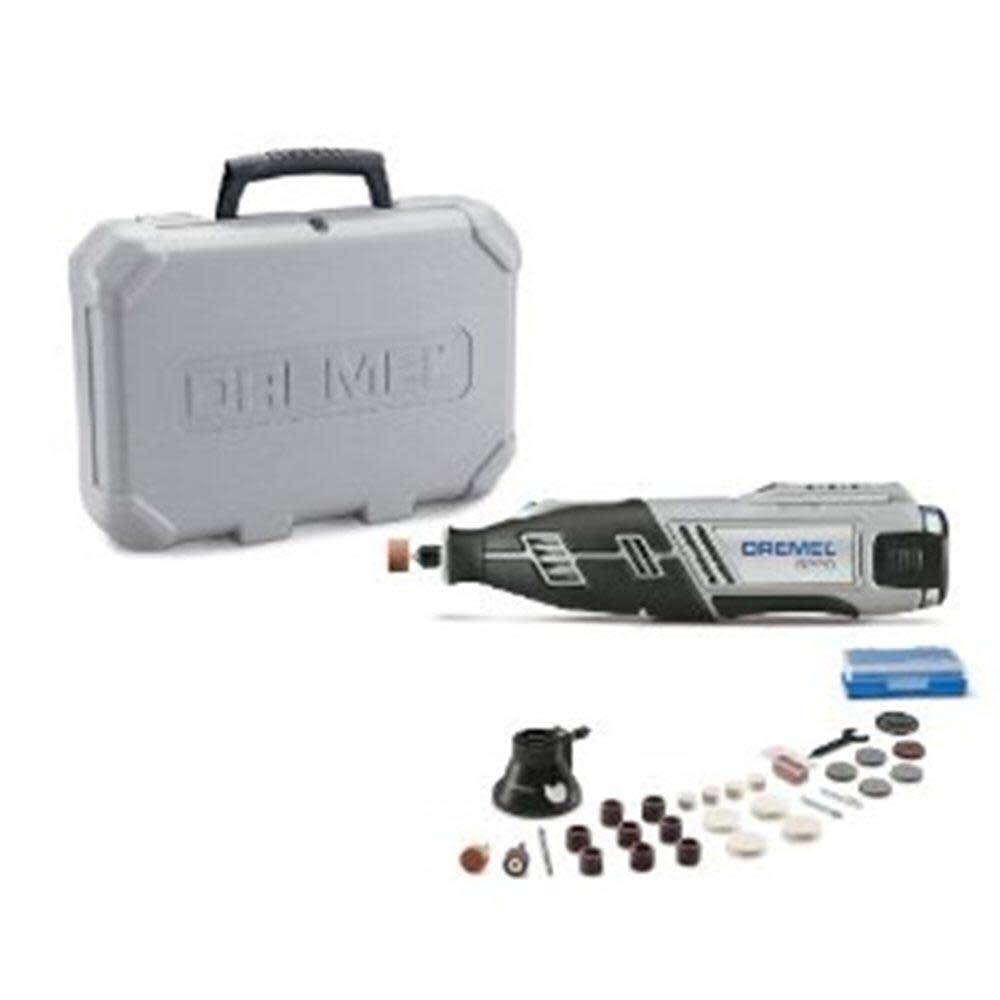 Pros
Handy
High quality
Reliable
Cordless power
Maximum performance 
Cons
Features of the Dremel 8220
On/Off switch
The separate On/Off switch is easy to operate. You control your speed since the speed setting is easy to adjust. 
Battery Indicator Light
The battery indicator light alerts you when you have to charge your battery.
Speed
The Dremel 8220 rotary tool has a speed variance of 5,000 to 35,000 rpm. It is a precision tool you can control at all speeds, and compatibility with maximum accessories makes the rotary tool versatile.
Power
The Dremel 8220 is a 12 Volt rotary tool, and the power comes with cordless performance. It is easy to handle. Lithium-ion battery technology holds a charge for up to 2 years, which does not come with memory effects. You are allowed to charge it anytime—the battery charges in one hour. The motor is powerful and performs well, making it ideal for demanding applications. 
Overview of the Dremel 8050
Dremel 8050 is a rotary tool with a size that is easy to carry around. It has an ergonomic design that makes it comfortable to use. It brings precision to light-duty tasks, making it ideal for DIY users. 
You hold it like a pencil and keep it between the thumb and the forefinger. The grip brings you closer to the workpiece, giving you control over the tool. It is easy to maneuver in tricky and complicated places. 
Dremel 8050 comes with LED lights in the nose cap. Your vision in low light areas is improved hence accuracy. The rotary tool comes with a feature that gives you battery-level indications. 
You will run out of power unaware. The Li-ion battery technology gives you a long-lasting battery that is quick to recharge. It has a docking station that stops automatically when fully charged. 
The batteries have a carrying capacity. The speed variance ranges from 5,000 to 28,000rpm, leaving room for matching the proper speed with multiple applications. The 8V lithium-ion battery has a high degree, and a 360-degree grip zone gives you a soft grip when operating the rotary tool. That gives you control and comfort at the same time. The quick collet lock allows you to make fast accessory changes. 
Dremel 8050 is a versatile tool for engraving, polishing, sanding, and cutting material. The cordless rotary tool comes with 18 high-quality Dremel accessories that leave you with the necessary accessories to complete your projects. The tool accessories come in a separate bag, and they are organized. The slim body extends the time of usage with comfort.
Pros
Versatile
Comfortable 
Maximum performance 
Multiple accessories 
Maximum visibility 
Cons
(Source)
Features of the Dremel 8050
Power
Dremel 8050 has a high-capacity 8V lithium-ion battery for longer run times. It has no memory effects. 
Speed
The speed ranges from 5,000 to 28,000rpm, allowing a certain speed to match an application. 
Collet 
Dremel 8050 has a quick collet lock that allows you to make rapid accessory changes. 
Battery indicator 
The battery indicator tells you how much power you are left with when using your tool.
What could be better
Dremel 8220
Dremel 8220 could have been lighter.
The carrying case could have been more flexible. You could have accommodated more accessories inside the bag. 
Dremel 8050
The locking button could have been convenient enough when you want to increase speed. The speed buttons could have been in a suitable place. 
Keep adjusting the battery for it to keep charging. 
Similarities 
They both have a 360-degree grip zone
They are cordless tools.
Both have powerful motors.
They have a speed variance.
Both have a battery indicator feature. 
Differences between Dremel 8220 and Dremel 8050
The Dremel 8220 rotary tool has a speed variance of 5,000 to 35,000 rpm, whereas Dremel 8050 runs from 5,000 to 28,000 rpm.
The Dremel 8220 battery charges faster than the Dremel 8050.
Verdict
Dremel 8220 and 8050 have more features in common since they are from the same manufacturer. Some characteristics separate the two. When looking for a rotary tool with the highest speed, Dremel 8220 is the ideal tool. Dremel 8050 illuminates your work area and increases visibility. It also charges faster and suits your work condition if you are always on the goal.
You may also want to see our Dremel 8220 vs Milwaukee m12.
Latest posts by David D. Hughes
(see all)