Comparing the Dremel lite vs Dremel 8220 can be difficult, as the two have more similarities than differences. You need to look closely at the two devices when choosing the one that best suits your needs. Each project has its requirements that are best met with a particular tool. Pay close attention to weight, price, design and speed. Below is an overview of the differences and similarities between the two devices.
Dremel Lite
Dremel lite features a versatile kit that allows you to sand, grind, sharpen, carve, engrave, clean, and polish your items. The package includes 15 accessories enabling you to work on multiple materials with multiple applications. What you only change is the accessory. Tackle any light-duty home improvement or creative project. 
Use the cordless and USB-chargeable Dremel Lite at your convenience. It does not matter if you are a first-timer.  You can rely on this kit to complete your projects. This tool allows you to switch between applications within many DIY projects. It does not matter if sanding, grinding, sharpening, carving, engraving, cleaning, or polishing.
With the cordless and USB-chargeable Dremel Lite, you can tackle your projects anywhere at any time. Its variable speed and single-button operation allow handling the Dremel Lite with ease. The included quick start guide and accessory information sheet give you all the elements to create the first experience. The package has 15 accessories included.
The cordless multi-tool is powered by a USB fast charging Lithium-Ion battery. Switch between applications in no time with Dremel's EZ Twist system. That is from carving to grinding to sanding. 
Pros
Versatile
Ease of use
Multiple accessories 
Speed variance
Saves time
Cons
Lower rpm
Low power 
A bit heavy
Dremel 8220
The Dremel 8220 is a cordless rotary tool with improved performance. Its versatility comes from a powerful motor that gives excellent performance at all speeds. Dremel 8220 pairs with Dremel accessories. 
The 8220 has an ergonomic design that gives a 360-degree grip zone. All its attachments connect to the rotary tool and work with different projects. You have control over the rotary tool in multiple positions, and it uses a 12V MAX lithium-ion battery.
The battery has 33% more running time than the Dremel 8200 when cutting screws. It charges in one hour, and the use varies depending on the duration. What determines the run time is the type of application, material, speed, and technique used. Its package includes numerous accessories.
The micro case gives storage to all accessories. It caters to both soft and hard materials. The speed varies from 5,000 to 35,000 RPM, giving you maximum control and precise results. 
Sanding and smoothing are allowed using the rotary tool. It weighs up to 2.1 pounds. It could have been lighter, but it is easier to use than a corded tool. It has value for money. You are allowed to work at full speed.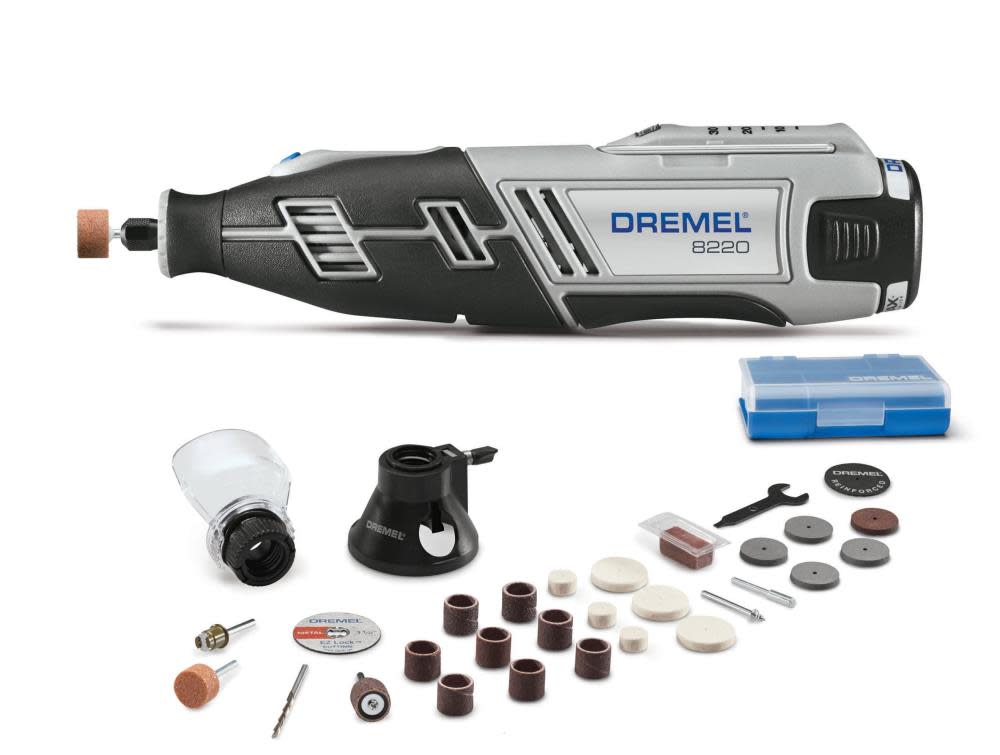 Pros
Handy
High quality
Reliable
Cordless power
Maximum performance 
Versatile 
Cons
Bulky
Needs frequent recharging
Inconsistent power
Features of the Dremel lite
EZ Twist nose cap
It allows quick accessory changes. The patented EZ Twist Nose Cap makes changes easily without the need for a wrench. 
Speed
With the Dremel lite, you can adjust the ideal speed from 8,000 to 25,000. That gives you optimal control and easy manoeuvrability.
Power
The rechargeable 4V Li-ion battery and convenient USB charger ensure it is ready. It features an easy battery charging system. The battery life indicator notifies you when you are running out of time. The LED light illuminates to inform you when the battery needs charging. The rechargeable battery is powered by an efficient USB system that holds its charge.
Soft grip
The 360-degree soft grip material allows for comfort and precise control. Cordless design offers the freedom to take it anywhere.
Design
The lightweight design and soft grip make it easy and comfortable to use. You are given prolonged working hours without fatigue. The size allows your tool to manoeuvre even in tiny spaces. 
Accessories 
It is used with most Dremel accessories and a selection of attachments.
Features of the Dremel 8220
Powerful motor
The motor is powerful, giving high performance, making it ideal for demanding applications. 
EZ Twist Nose Cap
The integrated nose cap allows you to make a fast accessory change. 
On/Off switch
The separate On/Off switch is easy to operate. You have control over your speed since the speed setting is easy to adjust. It is convenient.
Battery Indicator Light
The battery indicator light notifies you when you have to charge your battery.
Speed
The Dremel 8220 rotary tool has a speed variance of 5,000 to 35,000 rpm. It is a precision tool that you have control of at all speeds. Compatibility with maximum accessories makes the rotary tool versatile.
Power
The Dremel 8220 is a 12 Volt rotary tool with cordless performance. It is easy to handle. You are allowed to charge it anytime—the battery charges in one hour. Lithium-ion battery technology holds a charge for up to 2 years. That does not come with memory effects.
What could be better
Dremel lite
More battery and rpm could have made it more effective in performance.
It could have been a bit lighter for easy manoeuvrability.
Dremel 8220
Consistency in power could have made it effective.
It could have been lighter for comfort. 
Similarities
Both tools are cordless powered.
They have a speed variance.
Both are heavy. 
Differences between the Dremel lite and Dremel 8220
The Dremel 8220 rotary tool has a speed variance of 5,000 to 35,000 rpm, whereas the Dremel lite runs from 8,000 to 25,000rpm.
The verdict
To summarise the comparison, Dremel Lite and Dremel 8220 are similar tools with some differences. It is the differences that separate the tools. Pick one that matches your needs as you complete your projects. 
For sanding down door frames and sharpening garden tools, the Dremel Lite is the ideal brand. It is a beginner tool due to its compact and robust design. For multiple projects, Dremel 8220 might be your best pick. By now, you should have your best.
Latest posts by David D. Hughes
(see all)