If you are looking to get a number one tool between a Band saw vs Table saw, you need to set your priorities right. You should know what you need the tool for. Is it for a small shop or a workshop? An amateur and a professional are bound to have different tools. 
The space reserved determines the size of the saw that you are going to buy. The evaluation below will shed more light on how you use each tool safely and in what conditions so that you will not buy a tool you have no idea. The pros and cons will point to your appropriate saw tool.
Overview of the Band saw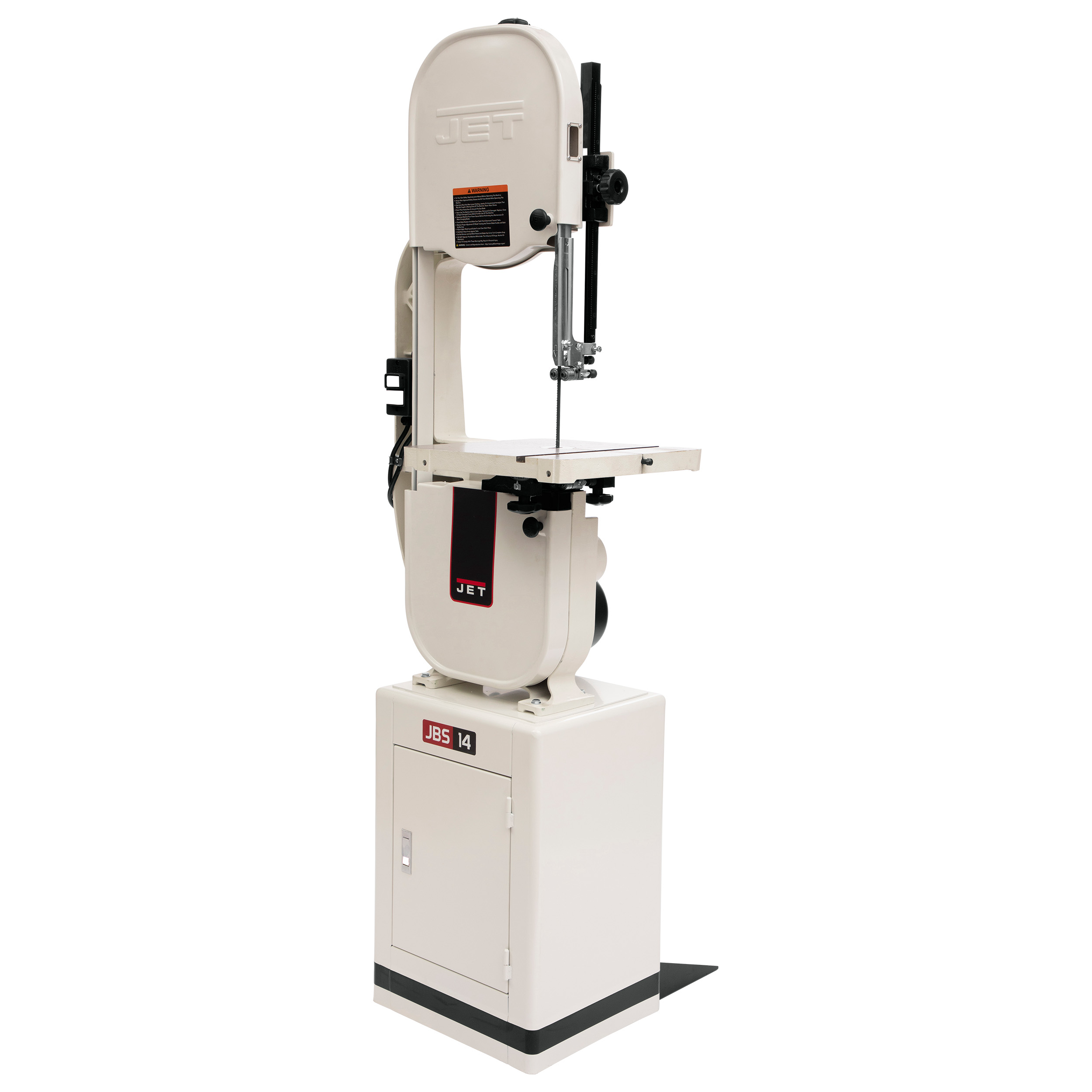 The blade of the band saw is not solid as standard blades. It does not have a circular plate of steel with carbide teeth. It is narrow, flexible and has teeth on one edge of the band saw. The band saw is ideal for cutting curves and tricky shapes. 
The blade easily maneuvers in such spaces, unlike the circular blade limited to straight lines. The narrow blade keeps the workpiece solid on the table while cutting. Chances are low that it will slip off the saw. That is safer regardless of the type of cuts you are working on. 
When you are working on cutting tapers, you need to draw guidelines, make cuts slightly outside the lines and add some strokes removing the saw marks. That way, you will get a smooth surface. Resawing makes the cut thin from a thick surface. That process becomes easy and affordable on materials that attract more costs. 
Pros
Flexible blade
Ideal for curves and odd shapes
Easy blade system
Solid 
Smooth
Cons
It requires additional finishing
It is not versatile
Key Features of the Band saw
Blade
The blade does not come in a circular plate of steel with carbide teeth right round. It is narrow and has carbide blades on one side. It falls between wheels that protect you from getting injured. The cutting action takes place whilst the wheels turn. The blade on the saw goes downwards toward the table. The table saw blade is easy to change. 
Rip capacity
Making a rip cut is easy on a band saw. You only need the right blade. The square edge is not necessarily a prerequisite. You need a straight line that guides you when you are feeding the workpiece into the blade. 
Frame
The saw comes with a sturdy frame that lasts longer. It does not compromise the performance of the maximum blade tension. The steel frame withstands the pressure that comes with different types of materials. It is sturdy and rigid. 
Bandwheels
It is a mechanism by which power moves from the motor to the blade. The wheels need to be sturdy to contain the vibration that comes with the process. Accurate blade tracking and proper tyres are needed. The balanced iron cast wheels are durable. They withstand the pressure of larger blades.
Blade tensioning
There is a need for proper blade tensioning so that the machine remains safe to use and accurate. Consistency is key in cutting. Straight, uniform and smooth cuts have to be maintained. The spring tightens the blade and a tensile force of up to 20,000psi is applied. However, it goes up to 30,000 psi. You may use a bi-metal blade as they are stronger. 
Motor
The motor is like the CPU of a computer. That is important before you buy a saw. It should be strong enough to withstand the pressure that comes with different types of materials. A motor with a cooling system is what I recommend since it is zero tolerance to noise. Mechanically braked motors are safe and efficient as they can stop the machine in 10 seconds. 
Overview of the Table Saw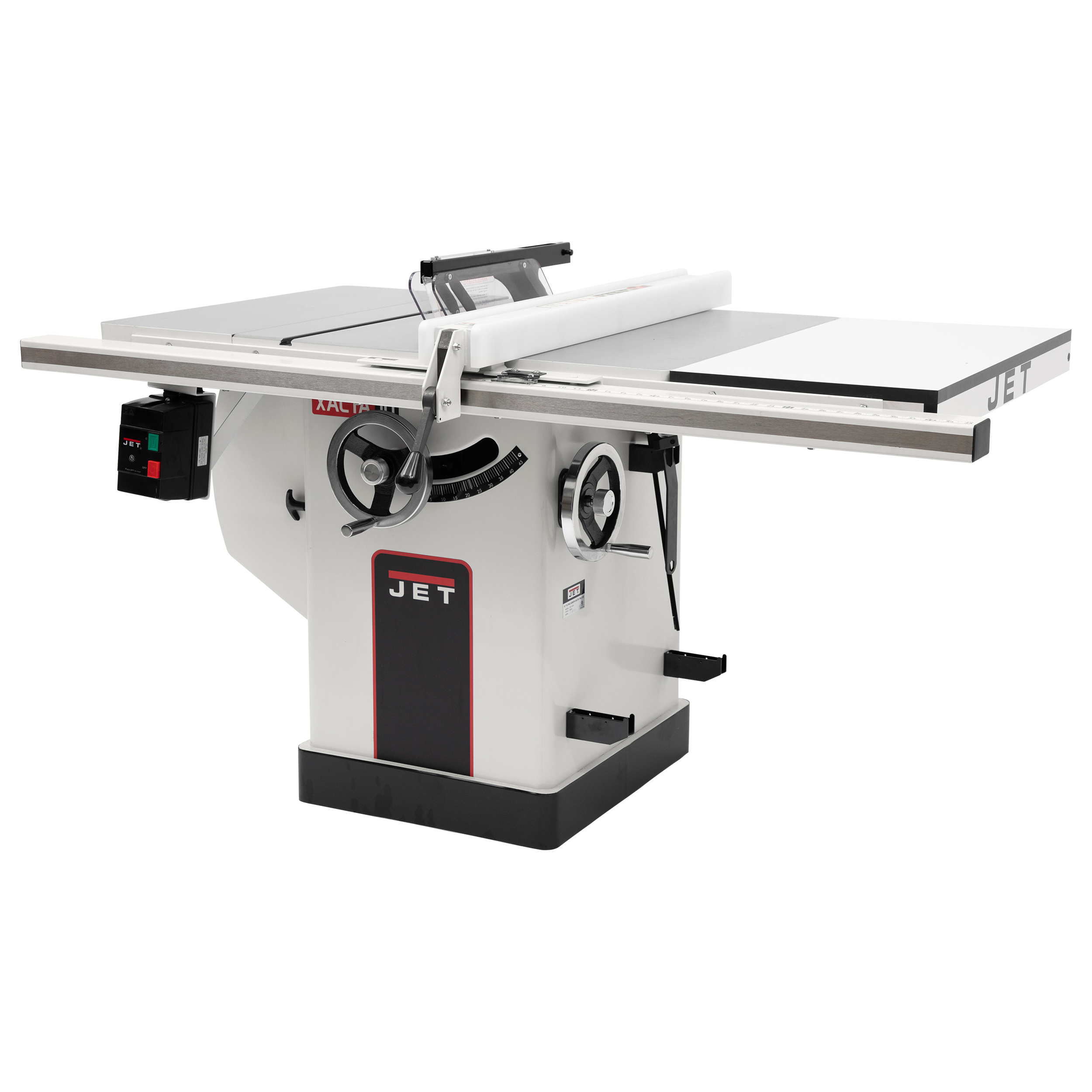 A table saw is a standard woodworking machine that is precise and easy to use. Although power tools like circular saws and miter saws offer the same activities a table saw offers. It remains an efficient power tool amongst them. 
Convenience is one of its strengths. You have visibility when you are using the power tool. A table saw is ideal for heavy-duty projects. However, it does not mean that you cannot use it on a small piece. 
It is ideal for a shop and straight cuts. That is the reason why it is popular in furniture shops. Straight cuts are not complicated. That is why the tool is ideal for beginners who rarely work on complicated surfaces. 
Pros
Precise
Ease of use.
Convenient.
Great visibility.
Ideal for straight cuts.
Cons
It is bigger.
It is a bit heavy.
Key features of the Table saw
Fence system
When you are using the rip fence on the saw, the edge of the material you are working on has to ride up against the fence, and it must be straight. The workpiece does not have to rotate as it goes through the blade. 
Miter gauge
The miter gauge guides the workpiece when you are running a crosscut task. The edge of the workpiece has to face the miter gauge. That makes straight cuts possible and accurate. 
Safety features
The blade spins in an upward/forward motion, and there are chances that it can come back to the user in a harmful way. These are called kickbacks. To avoid kickbacks, make sure that you stand to the side of the workpiece whilst you are working on the blade. Splitters, riving knives, anti-kickback pawls and blade covers are safety features that keep you away from injuries. You need to read the manual to use each piece of equipment appropriately. Proper tuning and setup ensure you of a safe experience.
Motor
It has two types of motor combinations. The Direct-drive saws have a universal motor. It connects the power to the blade directly. It is ideal on portable saws that give more power, yet they come in compact sizes. However, they make noise. Belt-drive saws have an induction motor and a belt that transfers power to the blade. It is durable and noise-free. It needs maintenance and caution.
Power
The power of the saw is measured in amps. More amps mean more cutting.
Pro Tip: You may also like Free Table Saw Maintenance Checklist.
Similarities
The Band saw and Table saw are both tools that are accessible and available around the globe.
They both have ease of use.
They are b0th used for cutting materials. 
They have a cutting blade with teeth.
They operate by moving the piece through the blade assembly. 
They both make quick straight cuts.
They both work on a variety of materials.
They allow you to change the blade with ease. 
Differences
The band saw is made of a narrow blade, whereas the table saw comes with a circular standard blade with carbide teeth. 
The band saw is ideal for circular and odd parts, whereas the Table saw is meant for straight cuts.
A table saw is more dangerous to use. 
A band saw allows you to make intricate cuts, unlike with the Table saw.
Cost 
Table saw ranges from 250 to 500 whereas a Band saw ranges from 100 to 5,000. 
Verdict
Choosing the best saw between the band saw and table saw depends on some factors. You might have a planned budget and a functional workshop, but that does not mean you know what you want. For straight surfaces, you need a table saw. For curved and odd parts, you need a band saw. The straight blade works in such tricky places. For tight-budget users, I recommend getting a table saw. See our best band saw for resawing.
Latest posts by David D. Hughes
(see all)