Overview of the Dewalt dw660
Dewalt dw660 is a tool with numerous accessories you can attach depending on what kind of small jobs you use it for. The Dremel 4000-6/50 Variable Speed Rotary Tool is a good product for its asking price, although better Rotary Tools are found for around 120 available.
It features a powerful 5.0 amp motor with 30,000 revolutions/minute capacity. It is a popular cutout tool for professionals, including general contractors and drywall installers. Cutting through various materials is faster and easier because of its 30,000 rpm capacity, which many other cutout tools cannot match.
Many tools quickly become useless because their motors become damaged by dust infiltrating their nooks and crannies. The Dewalt 660 has a sealed motor and switch, protecting it from the dust, dirt, and debris generated. This is a drywall tool, especially if your job involves drywall repair and renovation.  
The spiral Dewalt cutout tool bits allow fast and easy cutting into tile, plywood, and drywall, whether plunging into a cut or cutting at a lateral angle. The robust motor will not overheat even when cutting through a 1 1/2–inch wood. The depth guard prevents contact with wires behind the wall, a safety feature worth recognition.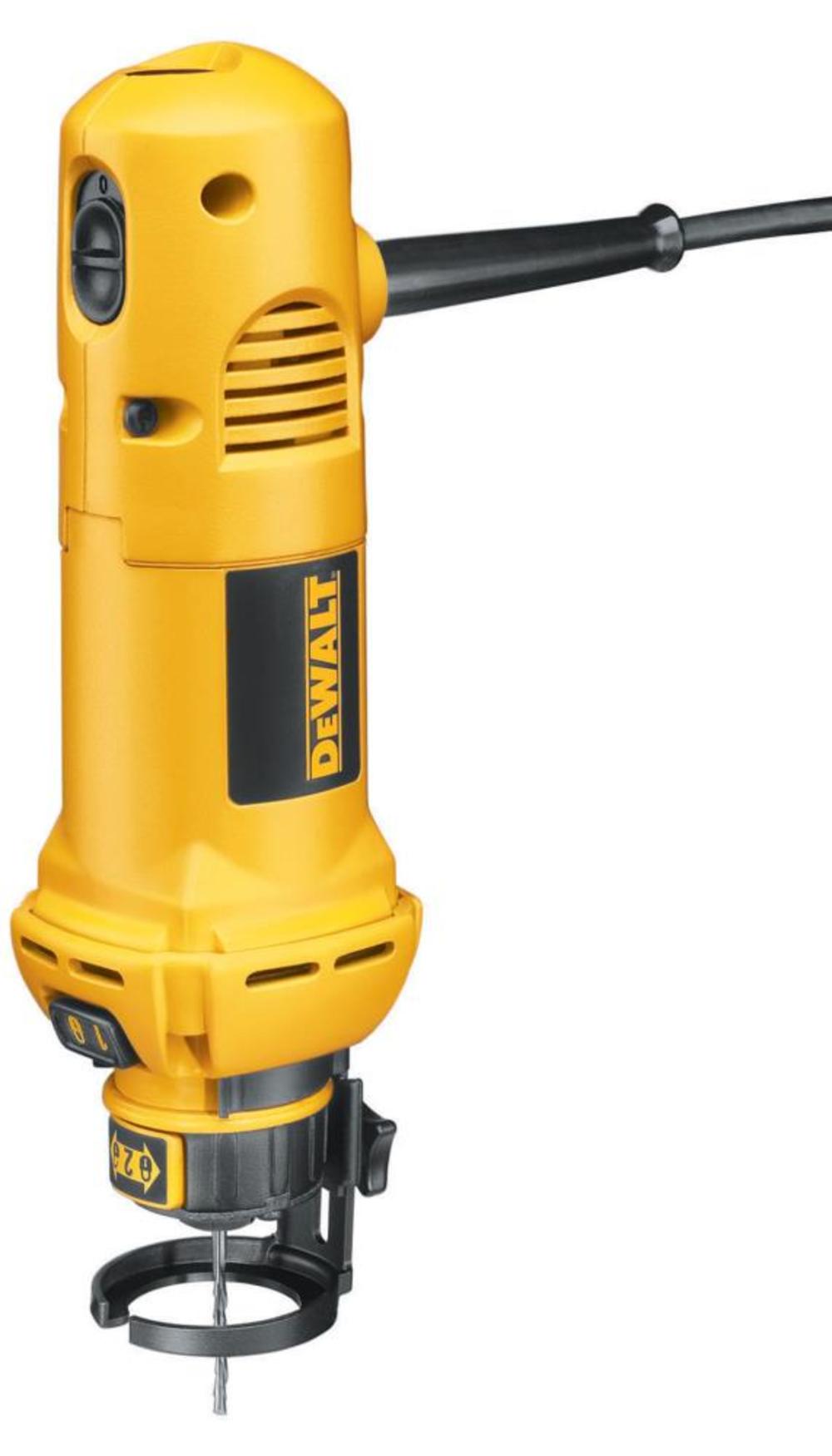 You can easily change the Dewalt DW660 bits without using a wrench. That is due to the tool-free bit feature. You can quickly shut down the rotary cutting tool in an emergency with the turn-on and bump-off switches.
The Dewalt DW660 accessories are in the box. These are drywall cutting bits and collets in two sizes – 1/4 and 1/8 inches. You can add other bits, but separately. From the outside, Dewalt DW660 looks like a professional tool with a rugged, simple design and tough appearance. 
The DW660 measures 11.5 x 5.5 x 3.5 inches and weighs around 3.4 pounds in a bright yellow casing. The overall design is slim and compact for easy operation for a prolonged time. There is a switch in the tail area for switching the tool on and off. The spindle lock and collet lock at the head are used to install and remove the bit.
Dewalt DW660 comes with a 5-ampere motor with 30.000 rotations per minute, making it powerful and efficient. Even though this tool is a rotary tool, the item only comes with bits and collets, making it more like a rotary cutout tool. 
Dewalt DW660 has a dust protector on the switch to extend the tool's life. You can use the spiral cutout bits for plunging and lateral cuts for plywood, dry wood, or tile. The bits can be changed easily using the button located at the head, and it has ¼ as well as 1/8 collets. An automatic shutdown mechanism has a bump-off switch.
Overview of the Dremel
Dremel is a rotary tool that cuts, sands, polishes, restores, engraves, and carves materials. These materials include wood, metal, ceramic, and plastic. What makes it versatile are its multiple applications and the ability to work on several materials. 
What makes it possible for the tool to complete the tasks are the features that accommodate several materials. Amongst the features is the speed variance that allows you to match speed with the material. 
A rotary tool is a valuable tool that makes you easily and comfortably complete projects in a short space. I will thoroughly discuss what you can do with a Dremel so that when you buy the tool, you know its value. 
When purchasing the rotary tool for removing excess material on your tabletop, that does not mean its use ends there. You still use it for other purposes. The tool is appropriate for both homes and workshops. 
With the right accessories and the rotary tool, you have a lot of activities to complete. Put on your safety gear before you power on the rotary tool.
Dremel 4000 is a rotary tool with a cord, four attachments, and thirty-four accessories. An effective ventilation system makes the workspace conducive. It prevents heat from building up. That is why the tool has managed to be noise-free and smooth. 
The storage case protects your tool from damage. Dremel comes with electronic feedback control that signals when something is not working. That includes speed and too much pressure. If your grinding becomes too hard, you get a signal. 
You have control over what happens with the rotary tool. Dremel 4000 introduces a speed dial feature that you easily turn on and off. Change the speed even when operating the rotary tool without stopping it. That gives the rotary tool maximum performance. 
The separate speed controls are handy when you are completing your tasks. It comes with a beautiful ergonomic design. You do not have to strain yourself when using the tool. It feels comfortable. It comes with a cord that connects to the power. 
Dremel has better attachments, although it allows some dust to get inside the rotary tool. I urge you to use compressed air to get rid of the particles. The rotary tool is solid and durable. In case of an accident, it does not break easily. 
The rotary tool is ideal for professionals, and it is user-friendly. The tool combines practicality and technology, and the motor brings out maximum performance. There is a balance between power and ease of manipulation. 
The rubber grip makes the operation comfortable. Hold the rotary tool in a way that makes you comfortable. Do not be afraid of having the tool slipping off your hands. Compatibility is one of the strengths of the rotary tool. It comes with more accessories that it works with.
Weight Comparison
Dewalt dw660 weighs 3.4 pounds, whereas Dremel 4000 weighs 0.66kg. 
Portability
Dremel is more portable than DeWalt dw660 due to weight. 
Speeds
DeWalt dw660 spins at 30,000rpm, whereas Dremel runs at 35,000rpm.
Controls
Dremel is easier to control than the Dewalt dw660. 
Price Comparison
Dremel ranges from 87 to 150 on the 4000 model, whereas DeWalt dw660 is 61.
Warranty
If there is a technical fault, Dremel offers a one-year warranty. DeWalt dw660 comes with a 3-year warranty. 
Latest posts by David D. Hughes
(see all)