Many woodworkers have a Dremel but use their regular rotary tool for some small jobs. This begs the question, which is better, the Dremel 3000 vs 8220? Both are great tools, but which is better? I have tried them both, and I will compare the individual features, performance, and value in this article.
The Dremel 3000 is a great rotary tool for experienced professionals who do various tasks. It offers more than 28 different accessories to help you complete various tasks. The Dremel 8220 is more suitable for semi-skilled professionals. This is because it comes with fewer attachments and is portable.
Both products feature a quiet airflow system for a quiet workspace. The main difference between these two products is the motors they have. The Dremel 3000 has a robust, powerful 1.2 amp motor. A 12 V lithium battery powers the Dremel 8220.
In the rest of the article, we will examine the main features of the two products. Ultimately, we will list both products' main advantages and disadvantages. We will also analyze the main similarities and differences between the two products. Let us start.
Dremel 3000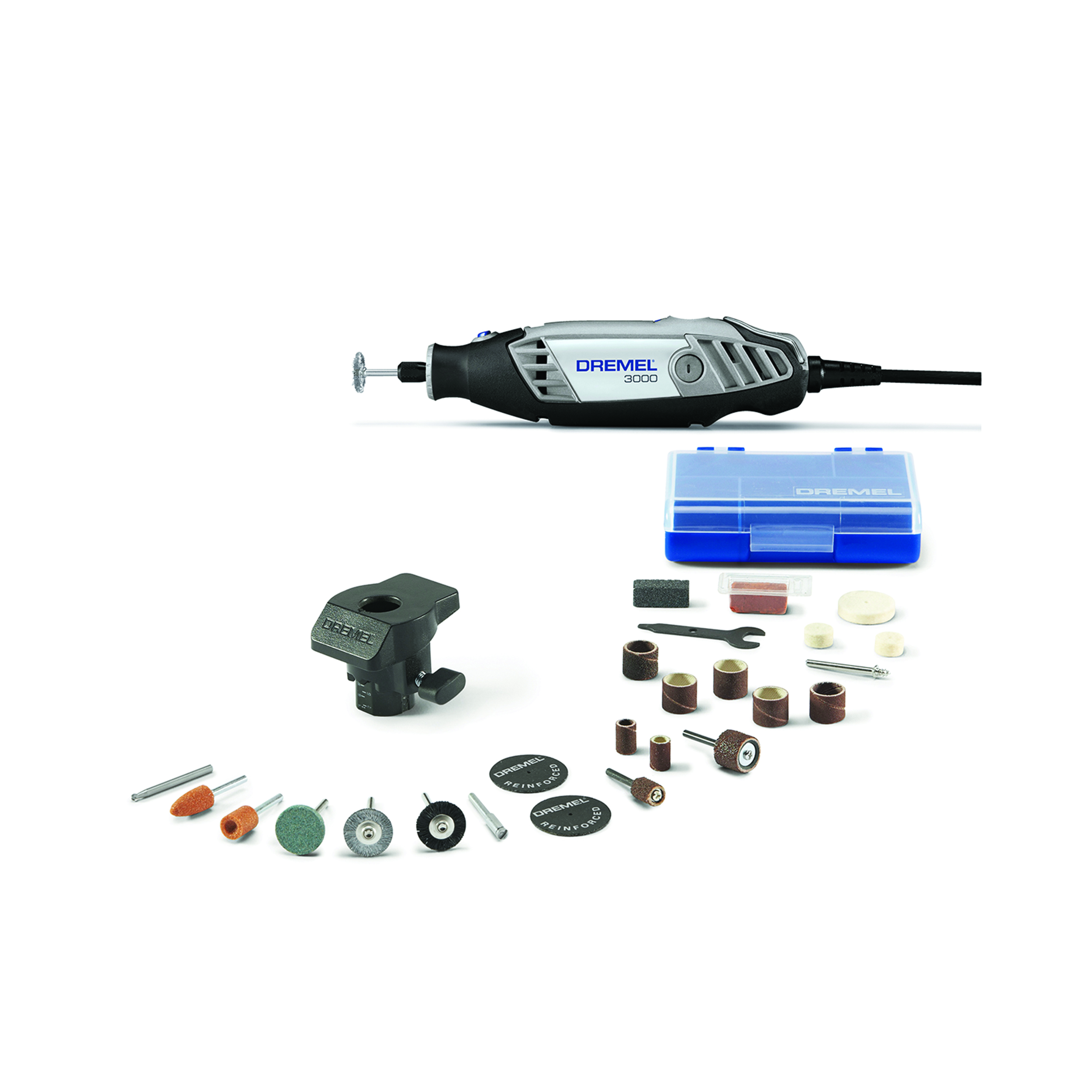 This exciting Rotary tool kit offers the consumer a wide range of uses. It is a quoted option that requires an electrical socket to connect. This tool kit comes with two different attachments that can facilitate the use of over 28 premium accessories. 
To help you store this power, the manufacturers have provided a plastic storage case to prevent children from playing with the two. They have also included an accessory case that should help you take care of all 28 accessories if you need to commute with them. The motor can reach up to 1.2 amps. 
Therefore, we can classify it as a high-performance machine. You should be able to enjoy up to six variable speeds as you work. These various speeds should help you safely increase the precision and control you can extend to your projects. It also means you can use many accessories because many require different speeds. 
It has a well-designed and efficient airflow system that works very quietly. This makes it a welcomed rotary option for any workspace. The tool's body has been designed to fit naturally in the hands. This will assist any beginners as they practice their technique in the early stages. The 28 attachments should allow you to undertake sanding, carving, and polishing projects. Cleaning and sharpening will also be possible. The warranty on the product is suitable for two years. 
Pros
Comes with 28 attachments.
Greater control at various speeds.
Natural grip and feel.
Cons
Dremel 8220
The Dremel 8220 totary tool offers excellent consumer control within speeds between 5,000 to 35,000 rotations per minute. The manufacturers have designed this rotary tool to be very versatile. It comes as a battery-powered unit that is cordless. It can therefore be used in unorthodox workshop spaces. 
The tool's performance is exceptional, powered by a 12V Max Lithium battery. This is enough juice to power a wide range of different tool accessories. This will give you the ability to undertake a significant number of other projects. It has an ergonomic handle that allows you to work at any angle. 
The full range of this body is around 360 degrees making it easy to handle in whichever position you prefer. It comes with two different on/off switches. This will make it much easier to control the speed of the tool. The advantage of this is greater control and precision in the process. 
The accessories can be changed very quickly because of the EZ Twist nose cap. This makes it useful for assembly lines that require multiple accessories to complete one product. The airflow system is based on a cool-running ball-bearing system that provides a quiet and smooth experience. The low noise produced by this product is well appreciated in otherwise noisy workplaces. You can enjoy a two-year warranty on this product with its purchase. 
Pros
Fast accessory change 
12V Max lithium battery
360-degree range
Cons
Top Features
Accessories available
The 3000 rotary tool boasts the availability of over 28 different attachments. This gives it improved versatility and allows you to undertake a broader range of activities. It also comes with a case that can store all these accessories safely. This should allow you to commute with them safely. The 8220 Rotary tool comes with significantly fewer accessories available, making it moreover semi-professional option.
Versatility 
Both products have a maximum rotation per minute limit of 35,000. You can adjust this speed on both options to safely cater to a wide range of accessories. This will help to improve the precision at which you can undertake projects. 
Power Motor 
The power motor on the Dremel 3000 rotary tools is a high-performance 1.2-amp unit. This can provide stable and well-controlled rotations even at high speeds. On the other hand, the Dremel 8220 model is powered by a 12V lithium battery that will work wonders for portability. It will last about 1 hour on a full charge which is quite impressive. 
What could be better?
Dremel 3000
Dremel could have implemented a more high-quality finish on the exterior materials. This would help to improve the durability to match the price charged for the product. 
Dremel 8220
The buttons on this product are made from plastic which means they are straightforward to break. Over time these may wear out quickly. 
Similar Features
Both rotary tool options boast impressive airflow systems. These are quiet and well-designed to allow for quiet operation.
Key Differences 
A cord powers the 3000 option, and the Dremel 8220 is battery-powered. The Dremel 3000 rotary tool comes with a 12V power supply, while a 1.2amp motor powers the Dremel 8220. 
The Verdict
In the end, these are excellent Rotary tools for professionals and semi-professionals. They are quiet and easy to operate with perfect precision. The models have reasonable control even at very high speeds, such as 35,000 rotations per minute. 
We recommend purchasing the Dremel 3000 rotary tools if you are a professional. It has more accessories included and offers a faster accessory change time. It can work well on the production line and costs more. 
We recommend the Dremel 8220 rotary tool if you want to get started. This tool is compact, portable, and quiet. It is relatively ergonomic and easy to control. These are welcome features for someone still learning. It is battery-powered, making it convenient to work in most nifty workspaces. The Dremel 8220 vs 3000, which will it be? You should also see our Dremel 3000 vs 4000 comparison.
Latest posts by Herbert S Dawson
(see all)