There is plenty of advice out there on the best way to get paint off of your woodwork, but there is no simple answer to what the best paint stripper to use depends on a variety of factors, including what you are trying to get off and how much time you have available. The best paint stripper for your situation is the best one for you.
Top Pick
The top pick for this article is the Dumond Chemicals Smart Strip Advanced Paint Remover. This elite chemical provides an effective and reasonably priced way to remove paint from different kinds of surfaces including metallic but specifically wooden surfaces. Aside from being an excellent paint remover, the Dumond smart strip advanced paint remover is environmentally friendly. This paint remover is the top pick because it possesses the widest range of applications and leads to the most effortless process of removing paint. It is also the most gentle on wooden surfaces.
Chemicals
Soy-Gel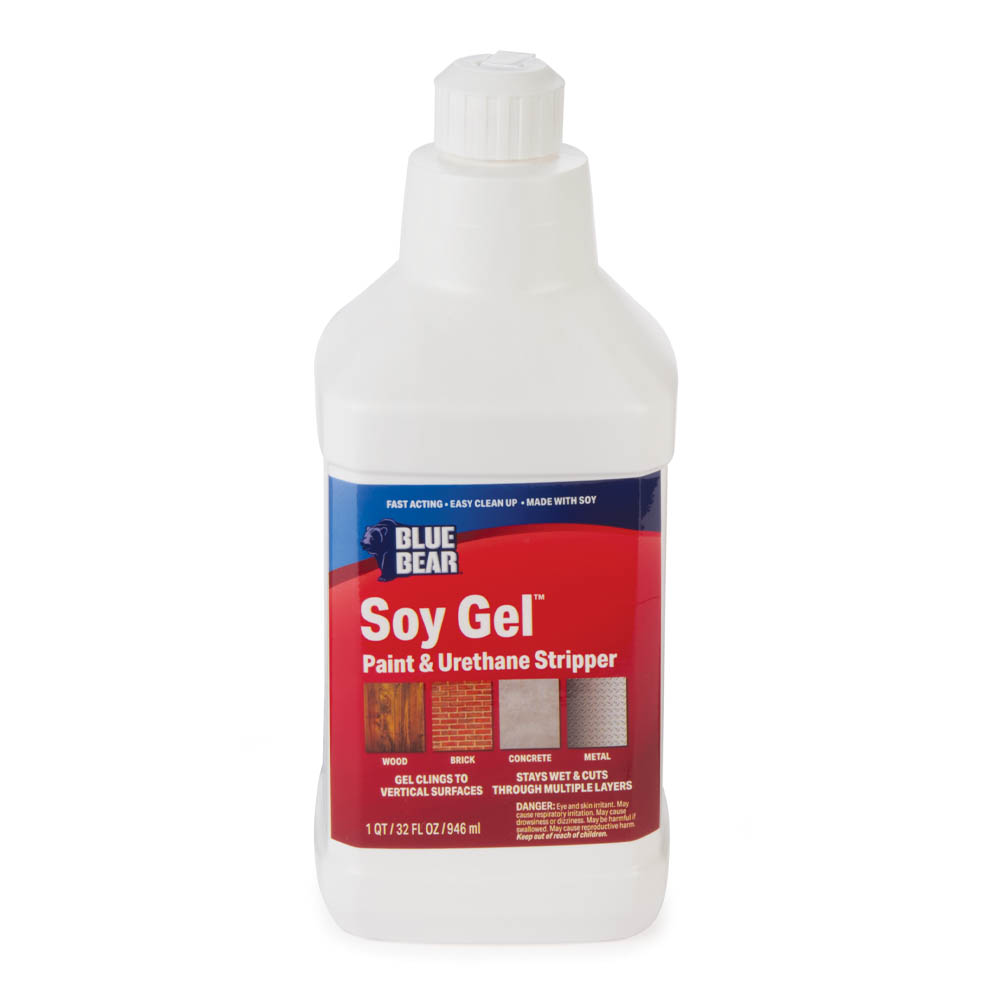 The Soy-based quart is an effective coating removal that does not have an odor. It is economical and safe to use. It is a product of soybeans and natural elements. Put on heavy gloves when using the chemical so that your hands stay safe. 
It is easy to use when you want to get rid of your old paint. SOY-Gel is 100% biodegradable. That makes it safe to use. There is no need to put on the respirator. The gel captures lead and hazardous particles from escaping into the air. 
The powerful formula used to make the gel makes it efficient even on surfaces. The surface becomes easy to clean when you apply the gel. It is ideal for both homeowners and professionals.  
Pros
Odorless
Effective
Effortless
Harmless
Ease of use
Cons
Paints harden when not removed.
Paint Stripper
The paint stripper removes multiple layers of paint at the same time. It is safe for wood, metal, and concrete surfaces. The formula clings to vertical surfaces as it does not run. Be careful when opening the container since the contents are under pressure. 
Place a rug on top of the lid since the container is tight. Protective clothing is required. Pour a coat over the surface and spread in a single stroke in one direction. 
Use a scraper to get rid of the paint after 15minutes. The paint stripper is strong and contains methylene chloride. It brings a natural finish to the surface. 
Pros
Fast
Versatile
Removes multiple layers
Water cleanable
Safe for the surface
Cons
Flammable.
Evapo-Rust Safe Paint Stripper
The Evapo-rust paint stripper is safe. The solvents get rid of paint by dissolving multiple layers of paint. It works both indoor and outdoor. It neither fumes or vapor. 
It is easy to apply as it clings to the surface. It lasts since it stays active for up to 48 hours. The power of the paint stripper comes from late enamel epoxy and powder coatings. You are safe from Methylene chloride that is hazardous to your health.
However, you still have to put on protective clothing. That is nitrile gloves and goggles. The three steps make the process easy. 
Pros
Non-flammable
Remove multiple layers
Ease of use
Eco-friendly
Ease of use
Cons
It needs several layers to remove the paint.
Max strip paint
The Max strip paint remover is a 2-in-1 gel that removes paint and varnishes surfaces. It cleans up with water and does not contain methylene chloride. A strip removes multiple layers of paint at once. 
The patented gel formula makes the strip clings onto the surface, making the chemical easy to apply. It breaks the bond between coating and surface without damaging the surface. Apply the strip using a brush, apply a second coat after ten minutes. 
Cover the area using plastic to avoid drying. Test a small area until the paint is easy to remove. Set times depend on the type of paint and the surface. 
Pros
Non-toxic
Convenient
No odor
Tough
Easy to clean up
Cons
Not for automotive and factory-finished paints.
Dumond Chemicals Smart Strip Advanced Paint Remover
The Dumond smart strip advanced paint remover is an all-inclusive paint remover that is well suited for various practical applications. Dumond Chemicals are industry leaders that have years of experience backed with extensive research and development to produce effective products that are safe for the environment and safe for users. Unlike other paint removers, this product does not include any caustic or toxic chemicals. So if you are removing paint from a wooden fence in your backyard garden for example you do not need to worry about the residual amounts that will enter your soils or water system. The chemicals used to formulate this product are not only water-soluble but are also scientifically proven to be biodegradable.
The Dumond paint remover is fast-acting. It does so without being aggressive with your wooden items. Use of this paint remover does not inflict any damage onto your wooden surfaces. The product also remains effective for 24 hours. So for items that are a bit more difficult to deal with you can give the remover a day to work its magic and rest assured of its effectiveness. The paint remover is easily safe for indoor use as it does not consist of any flammable chemicals and does not produce any toxic fumes. An added advantage of this product is that unlike other paint removers it is completely odorless. The remover is incredibly effective and can clear up to 15 layers of coating, although this of course requires more time. This product is an excellent example of value for money and is perfect for both indoor and outdoor use.
Pros
Fully biodegradable and pH neutral
Fast-acting and multi-layer penetrating
Water-soluble and odorless
Great for indoor use
Non-toxic and non-caustic
Cons
Only fast-acting when dealing with a few layers of coating.
Citri-Strip Paint And Varnish Stripping Gel
The citri-strip paint and varnish stripping gel is a close second and great alternative to the top pick Dumond chemical. This paint stripper is more affordable per liter compared to the top pick while managing to achieve similar results. As a matter of fact, this particular brand has been dubbed the top-selling product on multiple reviewing sites such as amazon. This paint stripper is incredibly effective. It has an astonishing ability to peel away a few layers of paint swiftly while also managing to peel away several layers of paint thoroughly. For more difficult tasks the gel has a 24-hour effective period that enables it to overcome the most stubborn of coatings.
This product works well on wooden surfaces but also metallic surfaces. Its effectiveness does not raise any concerns about potential damage to furniture. The product is pH neutral and non-abrasive. Another great quality of this product is how it is formulated using nontoxic and non acoustic chemicals. The formulation is entirely eco friendly and 100% biodegradable. The formula has no toxic fumes, in fact, it comes with a sweet fruity smell that not only makes it safe for indoor use but also pleasant. The formulation is entirely non-flammable so there is no added risk of your wooden object catching fire. The gel has a nice consistency that makes it very easy to apply to your furniture using a brush. The paint peels off quite easily after allowing the gel to sit and go to work. This material is ideal for DIY projects and can be used outdoors as well.
Pros
Fully biodegradable and eco friendly
Fragrant smell perfect for indoor use
Relatively affordable
Easy to apply and later on peel off
Up to 24-hour effectiveness
Cons
Does not work as well on older paints and coatings
Max Strip Paint and Varnish Stripper
The Max Strip paint and varnish stripper is a powerful and effective product. This product arrives at the mid-point of the pricing scale. It is not as well established as the other paint removers discussed so far but are worth giving your attention to. This product does an excellent job of removing thick layers of coating. We found that this product is a bit stronger than other paint removers. Because of its strong formulation at times, it becomes difficult to peel off the layers of paint as it can become a type of crust.  Simply scrubbing the crust with a brush can be effective.
The gel is relatively fast-acting. And works well on different kinds of paints and wooden surfaces. One of the outstanding features of this product is that it is eco-friendly and biodegradable. The formulation does not feature any toxic or flammable chemicals such as methylene chloride or NM. This means that the formulation poses no immediate health threat when it comes to contact with skin which also means there's no need to wear protective gloves. The product has a pleasant fragrance on top of its safe formulation which all in all makes it a very safe product to use indoors for DIY projects.
Pros
Works on various types of paint and surfaces
Eco friend and fully biodegradable 
Powerful quick-acting formulation
Relatively affordable
Soft fragrance perfect for indoor use
Cons
Difficult to peel off paint
Sunnyside Multi-Strip Advanced Paint and Varnish Remover
The Sunnyside Multi-Strip remover is an excellent product that is frequently compared to the top pick paint remover in this article. This multi-strip product is more ideal for professional use than DIY projects. Its most outstanding feature that places it in the professional ballpark is how incredibly fast-acting it is. Most products discussed in this article require around 3-24 hours to take effect but this product cuts this time down to 30 mins for thin coatings ( 1 to 4 coats) and 1.5 hours for thick coatings( 8 and above).
Because of how powerful these products are, it is not recommended to use for DIY projects. It is best to use this while wearing some protective gloves because repeated exposure to the gel can lead to dry skin. The paint remover is also not as simple to peel off as the other paint removers discussed in this article. It requires the use of a paint stripping tool. It does not have a soft fragrance nor is it odorless so it's not ideal for indoor use. However, because the formula acts fast the chemical smell dissipates quickly. This formula works well on all types of wood however it does require attention when applied to softwood surfaces. This product is most ideal for outdoor use and more large-scale objects.
Pros
Works exceptionally well indoor and outdoor
Very fast acting
Professional grade product
Strong enough to work through multiple layers of paint
Cons
Not biodegradable or eco friendly 
Sunnyside 2 Minute Remover
This may be one of the most exciting products featured in this article. It is super effective and reasonably priced making it useful for different kinds of applications. This product makes the impressive fast-acting of the previous product seem like nothing. As the name suggests this product can take effect in as little as 2 minutes. This product is therefore perfect for people who are generally in a rush or can't afford to wait long periods of time for the paint removers to take effect. The most common use of this paint is removing more detailed areas of the paint. It is not the best option when tackling say a very large cabinet but could be perfect for a small customized letterbox.
What is most impressive is that there are no hidden toxic chemicals at work to achieve these blistering speeds. The formulation does not contain any methylene chloride which is a commonly used but toxic compound. The product is so effective that it can strip away paint on one application. It is safe to use on horizontal and vertical surfaces. Although it is very powerful it will not damage your wooden items. It is best to operate this product with protective gloves.  Fortunately, this product does not produce a foul lingering smell. It is relatively odorless and any small traces of scent tend to diffuse rapidly. For more thick coatings of paint, this product requires a bit more time, which is only 5 minutes which is close to no time at all when compared to the other products discussed in this article.
Pros
Blistering fast speeds
Works on various surfaces
Does not contain toxic chemicals
Paint comes off easily after application 
Works well for detail work
Cons
Does not work well with large objects
Tools
Metabo Paint Stripper
Metabo paint stripper is a dual tool that removes paint and varnishes surfaces. It is fast and environmentally friendly. It also processes untreated wood surfaces. It lasts longer since it has to die cast aluminum housing. 
The winding protection grid gets rid of airborne debris that is harmful to the motor. The S-automatic torque protects the tool from damage if kickbacks take place. 
The adjustable milling depth feature makes the tool convenient to use. You are allowed to connect it to a vacuum. That limits dust exposure of the machine and the user. 
Pros
Faster
Environment-friendly
Adjustable
Universal motor
No vibration
Cons
Contain some harmful contents.
Paint eater
PaintEater is an innovative paint remover that gives you satisfactory results in a short period. The remover makes use of a three-meter abrasive that gets rid of chipped and flaking paint. It comes in a fiber disc that has sharp edges for surfaces. 
It operates while flat, and the edges give you a fine surface. It operates at high rotary speed. That is 2,000 rotations per minute. That maximizes the performance of the disc. 
When siding and trimming, it is not aggressive. Operate the disc on its edge when you want aggression. The Open-web disc design minimizes the loading-up of paint and dust. The powerful motor has a high power of 3.2Amp. 
Pros
Effortless
Saves time
Multiple hand positions
Safe
High performance
Cons
Bahco Carbide scraper
The scraper is easy to use and meant for tough surfaces. It is a heavy-duty scraper for wide material. You are allowed to add strength when needed. The plastic knob gives you a grip. 
It allows you to operate the tool using two hands. That is comfortable for the user. The blades are made from cemented carbide which is a hard material. The scrapper is versatile since it works on a wide range of surfaces. 
The blade is sharper than steel blades. The thumb grip is convenient to use for detailed and complex tasks. Large areas are ideal for the scrapper. The holster works as a pocket or belt storage.
Pros
Maximum comfort
Excellent grip
Ease of use
Heavy-duty use
Includes a blade
Cons
SEEKONE Heat gun
The SEEKONE heat gun is a strong hat gun that comes with 1800W. It heats up quickly up to 650 degrees Celsius. The power comes in two modes. The temperature varies from 120F to 1200F. That allows you to control your temperature. 
The black dial has the rheostat-type heating feature. The high/low switch that is on the handle gives airflow control. The gun has an overload protector so that your heat gun and the circuit do not get damaged. 
The ergonomic handle takes away the strain that comes with operating the gun. 
Pros
Temperature variance
Strong
Ergonomic design
Lifetime warranty
Multi-use
Cons
Ironton Hot Knife
The Ironton hot knife quickly heats up to 975F. That results in fast and clean cuts in foam and plastic materials. 
It has depth adjustment for repetitive cuts at a precise depth. The 130Watt knife cuts a wide range of materials. The handle comes with a comfortable grip. 
It is important to know the melting point of your knife. You easily match that with the type of paint you want to get rid of. 
Pros
Quick
Clean cuts
Adjustable temperature
Comfortable
Precise
Cons
It could have been hotter.
Heat gun D2695
The innovative kickstand from the heat gun makes it stable. The heat gun is for professional use due to temperature control. You are allowed to adjust heat settings. A beginner might struggle to operate the heat gun. 
The built-in hang ring makes it convenient to store. It is lightweight and durable. The built-in overload protection switches off the heating element to avoid burning up.  The cord has a protector that prevents it from tearing away from the housing. 
Maintaining the gun is easy due to the separate internal components. It weighs up to 2.1 lbs. 
Pros
Temperature variance
Overload protection
Stable
Ergonomic comfort grip
Lightweight
Cons
Buyer's Guide
The process of paint removal can be a time-consuming process depending on the scale of the job. It is also important to realize that there is no one-size-fits-all.  It's also a process that requires care, research, and patience in order to protect the painted object from damage.  
There are different kinds of paint removers:
Solvent paint stripper-work by dissolving the paint and are usually the easiest to remove.
Caustic paint strippers- these are the most chemically volatile strippers that require utmost care and know-how. Probably not best for DIY projects. This kind of stripper is typically used for industrial-scale projects.
Biochemical paint stripper – safe and biodegradable. Likely the best option for DIY projects.
Avoid the temptation to paint over existing layers of paint. Make sure to eliminate all paint before adding a new coat. Even if the layers of paint are peeling or flaking it can directly impact any new coat you apply so you'll end up with an unsatisfactory finish. This is why it is recommended that you avoid this from occurring and remove paint from any surfaces before applying new coats.
Before you buy your paint stripper make sure to read the label and make sure you are certain of how to use it and where to use it. Some paint strippers will also require you to buy additional tools such as a scraping tool. Other strippers require you to purchase protective gear such as gloves, aprons, and even gas masks. Ensure that you always give the paint removers enough time to workAfter you finish the process of removing it's important to wash and neutralize the surface ( if a caustic stripper was used) before applying a new coat of paint.
Final Thoughts
The most important realization to come to when reading this article is that generally there is no best paint stripper for all scenarios. The ideal paint stripper depends on multiple factors including but not limited to; the underlying surface, the desired work time, environmental safety, indoor or outdoor use. There are very fast-acting paint removers such as the Sunnyside 2 minute remover however these are ideal for large objects in contrast to the Dumond paint stripper that takes a long time but is environmentally friendly and works well on large surfaces. It's an important thing to be fully aware of all the details before you start.
Latest posts by David D. Hughes
(see all)