Dewalt Dws716xps vs dws780
Comparing the Dewalt Dws716xps vs dws780 is easier when you know each miter saw.  If you're in the market for a new miter saw, you know that there are a ton of options out there. It can be overwhelming to decide which fits your needs best. In this post, we'll be closely examining two popular options from Dewalt – the Dws716xps and the Dws780 – and comparing their features, performance, and overall value. By the end of this post, you should have a good idea of which saw is the right choice for your workshop. So let's dive in and see how these two saws stack up against each other! 
Overview of the Dewalt DWS716XPS 
Dewalt Dws716XPS is a 12-inch compound miter saw operating with a 15 Amp motor that produces 3,000 rotations per minute. It comes with a cutline featuring a LED light system for visibility. The saw machine is adjustable, making it accurate.
The tall sliding fence supports a large stock up to 6-1/2 inches tall. Its stainless miter detent plate has 14 positive stops and a cam miter lock system that allows you to run repeatable cuts. What makes its dust extraction system efficient is that it collects dust produced during the operation. 
The dual-bevel design makes the saw bevel from 0 to 48 degrees to the left and right sides. The positive stops range from 0 to 50 degrees. It is lightweight, and the built-in handle allows you a comfortable experience in carrying the saw. 
It features a cam miter lock gadget that gives accuracy and sturdiness with clean adjustments. A high-performance dirt duct is there for maximum collection. Its lightweight layout and integration offer portability.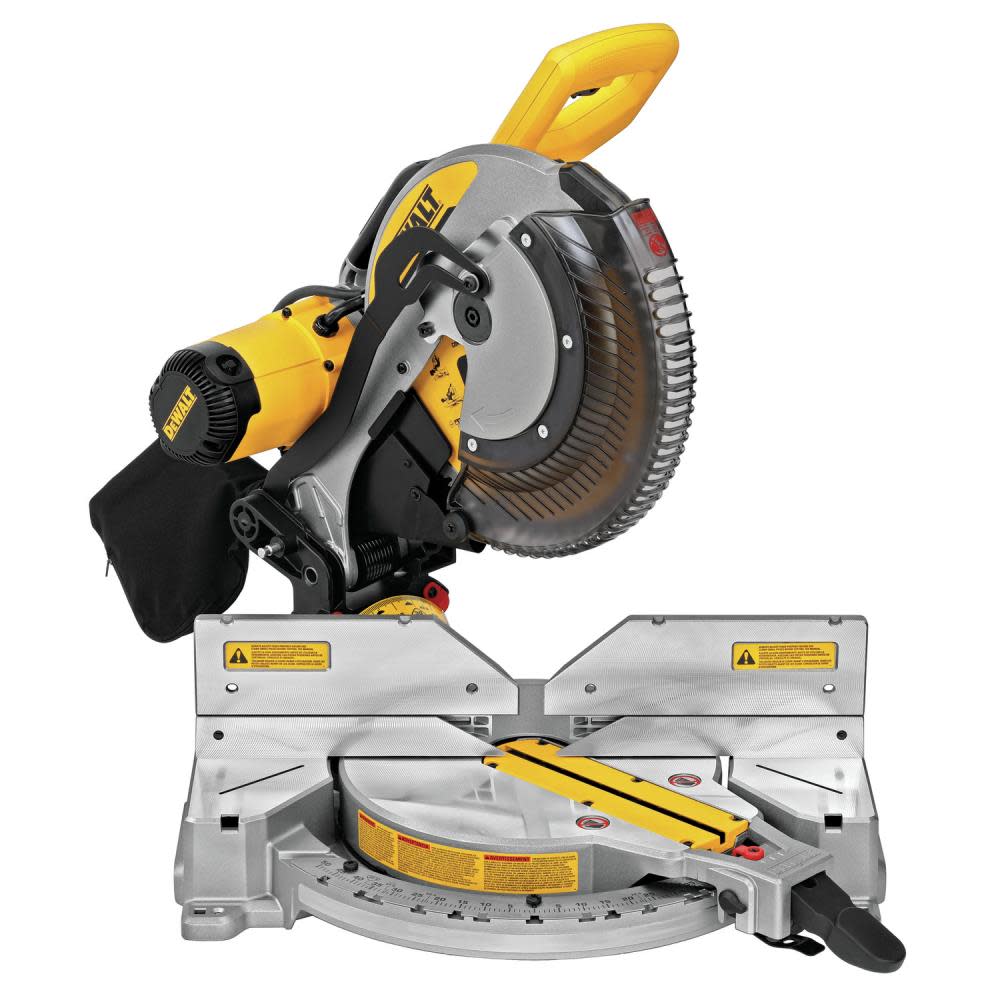 Pros
Quick 
Accurate
Supports large stock
Durable and efficient 
Visibility
Cons
No laser
Fewer teeth on the carbide blade
Overview of the Dewalt dws780
The Dewalt DWS780 miter saw features a 15 Amp motor that produces 3,800 rotations per minute. It features the XPS crosscut positioning system, which runs through thick materials. Inside the package are a miter saw, carbide blade, blade wrench, dust bag, and a clamp. 
The handle has an ergonomic design, making it comfortable for long hours. The miter saw is lightweight, and the bevel angle adjustments are easy and accurate. The dust collection system handles 75 per cent of the dust saw, minimizing your clean-up time. 
The miter plate has ten positive stops for accurate cuts. Its dual horizontal steel rails have an innovative clamping system that supports the material. What makes the Dewalt dws780 efficient is its improved power and durability. Dewalt saws can take multiple materials, making them ideal for woodworking tasks and projects. The miter saw has an improved back fence design if you want to cut large materials for different applications.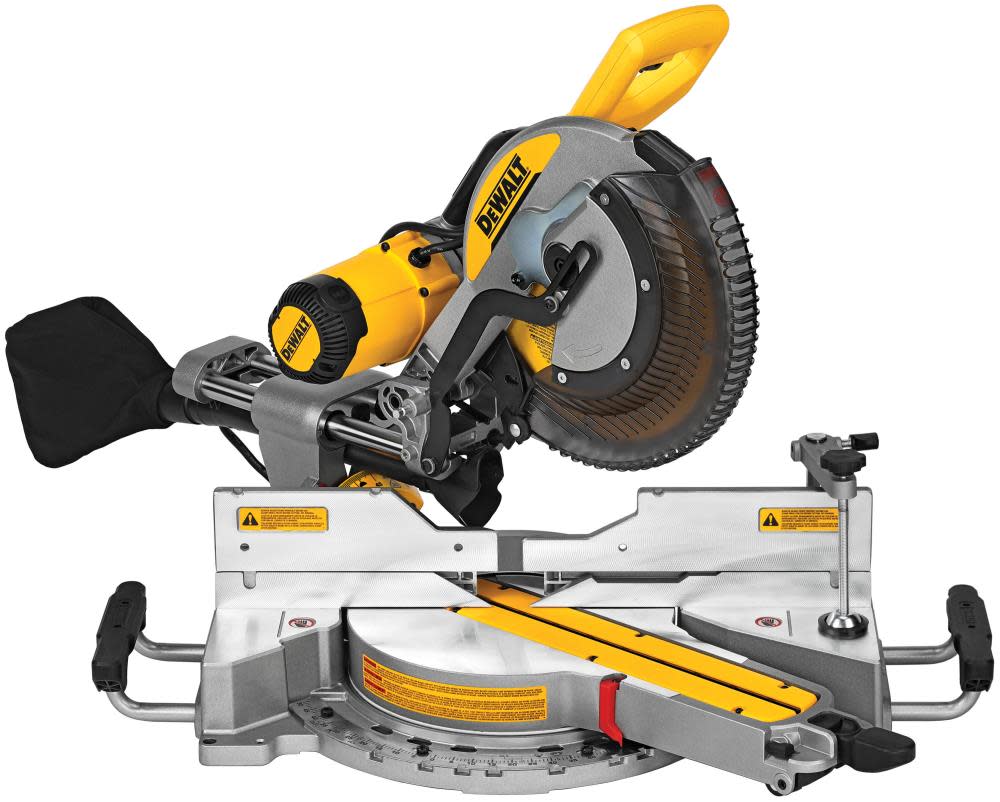 Pros
Durable
Innovative
Adjustable
Increased capacity
An improved dust collection system
Cons
Features of Dewalt DWS716XPS
Miter detent plate
The stainless-steel miter detent plate has 14 positive stops. They deliver repeatable accuracy and worksite durability.
Sliding fences
Tall sliding fences support crown molding up to 6-5/8 inch nested and base molding up to 6-1/2 inch vertically against the saw fence.
Design
Its double-bevel design allows the saw to bevel 0° – 48° to the left and right with positive stops at 0°, 22.5°, 33.9°, and 45°.
LED work light
LED work light system provides adjustment-free cut line indication for accuracy and visibility (Dewalt.com). That only comprises your work if you are working in low-light conditions. You still have enough lighting for your project.
Dust collection system
The Dewalt DWS716XPS has an additional dust collection funnel close to the blade. Dust is taken care of via the dust bag or attached dust extractor. The saw features a high-efficiency duct concentrated at the point of cut for maximum collection. Since dust collection is problematic on miter saws, Dewalt engineers improved the system with the DWS716XPS.
Features of a Dewalt-780
XPS the shadow line cut indicator.
The Dewalt DWS780 is sturdy and adjustable, keeping it accurate without compromising the tool's speed.
Bevel stop
The new quick-release bevel stop setting provides the accurate and simple setting of bevel angles up to 49° left and right. It has a fast discharge bevel stop setting up to 49° left and right. The unique depth stop allows the saw to track falsework (Yorksaw.com). 
It features the easy-to-use miter and bevel controls making the tool fast and simple to change from one setup to another. The Cam action miter lock function makes miter setting faster and easier, allowing the user to adjust angles between 0° – 50° left and 0° – 60° right.
Miter lock
Dewalt dws780 features a cam action miter lock, making your miter setting quicker and more efficient. It allows the user to work with angles between 0° – 50° left and 0° – 60° right.
Speed control
It has an electronic speed control for adjusting cutting speed when using non-ferrous materials. The clamps are for cutting non-ferrous materials.
Sliding fence
The large dual sliding fence gives maximum support in large material cuts at any angle or combination of angles.
What could have been better
Dws716xps 
An additional feature in a laser could have been advantageous. 
More teeth on the carbide blade would have made the cuts more smooth.
Dewalt dws780
It could have been more affordable.
More affordable options would have been made available to suit any budget. 
Similarities
Both miter saws have a cutline blade positioning system, which provides an adjustment-free cut-line indication.
They use 12-inch blades.
Both machines are of stainless steel and aluminum.
They have 3800 rpm motors.
Both can be fastened to your sliding compound miter saw stand.
Differences
Dewalt DWS780 is adjustable with ten positive stops, while Dewalt DWS716XPS has 14 positive stops. 
The verdict
Have you chosen one yet? For more accurate projects, the Dewalt DWS716XPS maybe your top pick. The XPS gives you a LED that will help you cut the material accurately. If you are a professional, you may go for the Dewalt. It is for fine woodwork, framing lumber, and ordinary woodwork. For functional lumber, Dewalt DWS780 will support your job. You can choose the sliding miter saw DWS780 when your budget is unlimited. By now, you should have decided on the miter saw you want. 
Latest posts by David D. Hughes
(see all)