Dewalt DWS780 vs Makita LS1219L are two popular models of the 12-inch dual compound sliding miter saw known for power and the ability to cut through various materials. Both machines are designed for DIY and heavy-duty projects. They share the same blade size of 12 inches and motor power of 15 amperes. Their cutting capacity, precision level, design, additional features, and accessories differ. Let us dive into all the details.
Makita ls1219l
The Makita 12" dual-bevel sliding compound miter saw comes with a laser. It features capacity, accuracy, and an efficient dust extraction system. The compact-sized tool has a unique 2-steel rail sliding system that offers a reduced footprint for operation flush against a wall. 
The innovative direct-drive gearbox and guard system are for increased vertical cutting capacity of baseboard (6-3/4″) and crown molding (8" nested). It makes 15" crosscuts at 90 degrees. The saw miters 0° to 60° left and right, with positive stops at 0°, 15°, 22.5°, 31.6°, 45° and 60° (left or right). 
The bevel lock is located in the front of the saw for easy access. Quick adjustments range from 0° to 48° (left and right). The saw is powered by a 15 amp direct drive motor with a soft start. Direct drive enables smoother start-ups and constant power with no belts to slip. The electric brake adds convenience. 
The electronic speed control maintains constant speed under load for smoother, higher-quality cutting. Among its additional features are a high-quality 60T carbide-tipped blade, and a see-through blade guard system for greater blade visibility and line-of-cut visibility. 
Pros
Compact design 
Offers smooth cuts 
Optimum cutting precision
Constant speed
Quick adjustments 
Con
Bulky and heavy
Less efficient 
Dewalt dws780
The Dewalt DWS780 miter saw has a 15 Amp motor that produces 3,800 rotations per minute. The XPS crosscut positioning system makes it a unique saw tool. It allows the saw to run through thick materials with ease. It is for carpenters, deck builders, and set builders who want maximum capacity on the job site.
The handle has an ergonomic design, making it comfortable to handle. The dust collection system collects up to 75 per cent of the dust saw. It also features a carbide blade which is fast and sharp. The bevel angle adjustments are easy and accurate. 
The miter plate has ten positive stops that allow you to make accurate cuts. The dual horizontal steel rails are innovative and have a clamping system that supports the material. The package includes a miter saw, carbide blade, blade wrench, dust bag, and a clamp. 
What makes the Dewalt dws780 efficient is its improved power and durability. Dewalt saw is so powerful that it can take multiple materials, making it ideal for different woodworking tasks and projects. The miter saw has an improved back fence design if you want to cut large materials.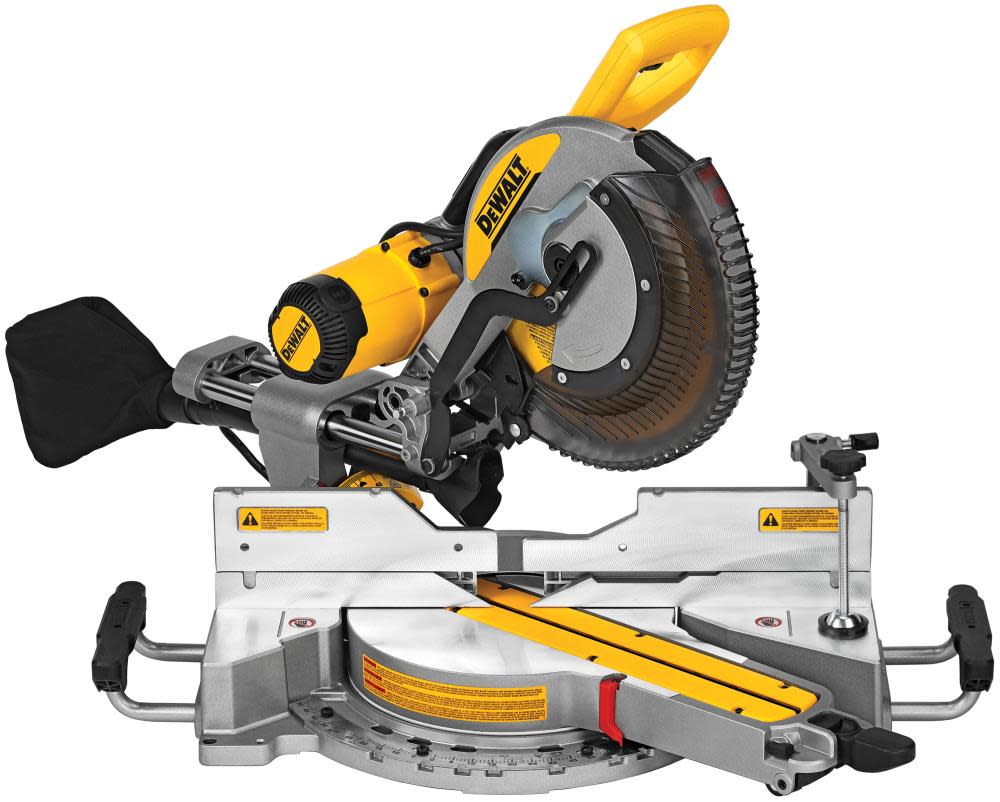 Pros
Durable
Innovative
Safe
Adjustable
Increased capacity
Cons
Not affordable 
A poor dust collection system 
Features of the Makita ls1219l
Laser 
The built-in laser indicates the line of cut and whether the blade is turning. It offers micro-adjustments for precise left-of-blade or right-of-blade cutting. 
Dust Collection system 
It has dual dust collection ports for improved dust collection capability for a bag or vacuum. The bag is included inside the package, whereas the vacuum is sold separately. 
Base
It also has a large-sized aluminum base that improves the stability of cutting stock for more efficient cutting.
Linear ball bearing system
Linear ball bearing system engineered to deliver accurate cuts (Eleknet.com).
Soft start system
Soft start suppresses start-up reaction for smooth start-ups and longer gear life. 
Features of the Dewalt dws780
XPS the shadow line cut indicator.
The DWS780 is sturdy and adjustable. It remains accurate without compromising speed during your use of the tool.
Bevel stop
It has a fast discharge bevel stop setting up to 49° left and right. The unique depth stop allows the saw to track falsework. The new quick-release bevel stop setting provides the accurate and simple setting of bevel angles up to 49° left and right. 
It features the easy-to-use miter and bevel controls making the tool fast and simple to change from one setup to another. The Cam action miter lock function makes miter setting faster and easier, allowing the user to adjust angles between 0° – 50° left and 0° – 60° right.
Miter lock
It also features a cam action miter lock, making your miter setting quicker and more efficient. It allows the user to work with angles between 0° – 50° left and 0° – 60° right.
Speed control
Electronic speed control is for adjusting cutting speed when using non-ferrous materials. Clamps are for cutting non-ferrous materials.
Sliding fence
The large dual sliding fence gives maximum support in large material cuts at any angle or combination of angles.
What could have been better?
Makita ls1219l
It could have been more efficient.
It could have been lightweight.
Dewalt dws780
It could have been a bit lighter for easy movement.
Ruler markings would have made it convenient to use. 
Similarities 
Both miter saws feature modern technology to boost their precision.
Both machines are lightweight and have compact designs.
They have the same bevel cut.
Both models share the same blade size of 12 inches in diameter.
Differences between Dewalt DWS780 and Makita LS1219L
Dewalt DWS780 supports two different arbor sizes (5/8-inch and 1-inch), while Makita LS1219L only offers one of 1 inch.
The Dewalt model's cutting blade is faster, with a speed of 3,800 RPM, whereas Makita LS1219L's blade falls short at 3,200 RPM.
Dewalt DWS780 has a built-in XPS crosscut positioning system for crosscut accuracy that Makita does not have.
Makita LS1219L machine offers convenient slow-start technology, allowing the cutting blade to build up its speed slowly and safely the Dewalt does not have.
The verdict 
Makita ls1219l and DeWalt miter saws are great tools to improve any workshop. If you are looking for a miter saw with superior blade speed and high portability, Dewalt DWS780 is the ideal saw tool. However, if your projects require excellent performance and high consistency, Makita LS1219L might be your pick. The difference between them is slight, but that separates the two. By now, you should have your best pick.
Latest posts by David D. Hughes
(see all)