The AR6 Pro V5 machine comes with a great design. It has been tried and tested and offers a full range of accessories purchased separately to build the machine to your needs. 
AR6Pro V5 is measured 24 x 36 inches and a high rigidity extruded Aluminium frame, interlocking aluminum table, an integrated MDF spoil board, automated tool touch-off plate, guides in all axes, precision ball screws, 1HP (800W) Electro Spindle, and RichAuto B11 industrial 3-Axis CNC controller.
However, the software is not included. Choose the perfect software that suits your needs. No computer is required. It comes with metal construction and a heavy-duty interlocking aluminum table with an optional stand and toolbox. The speed ranges from 0 to 24,000 RPM.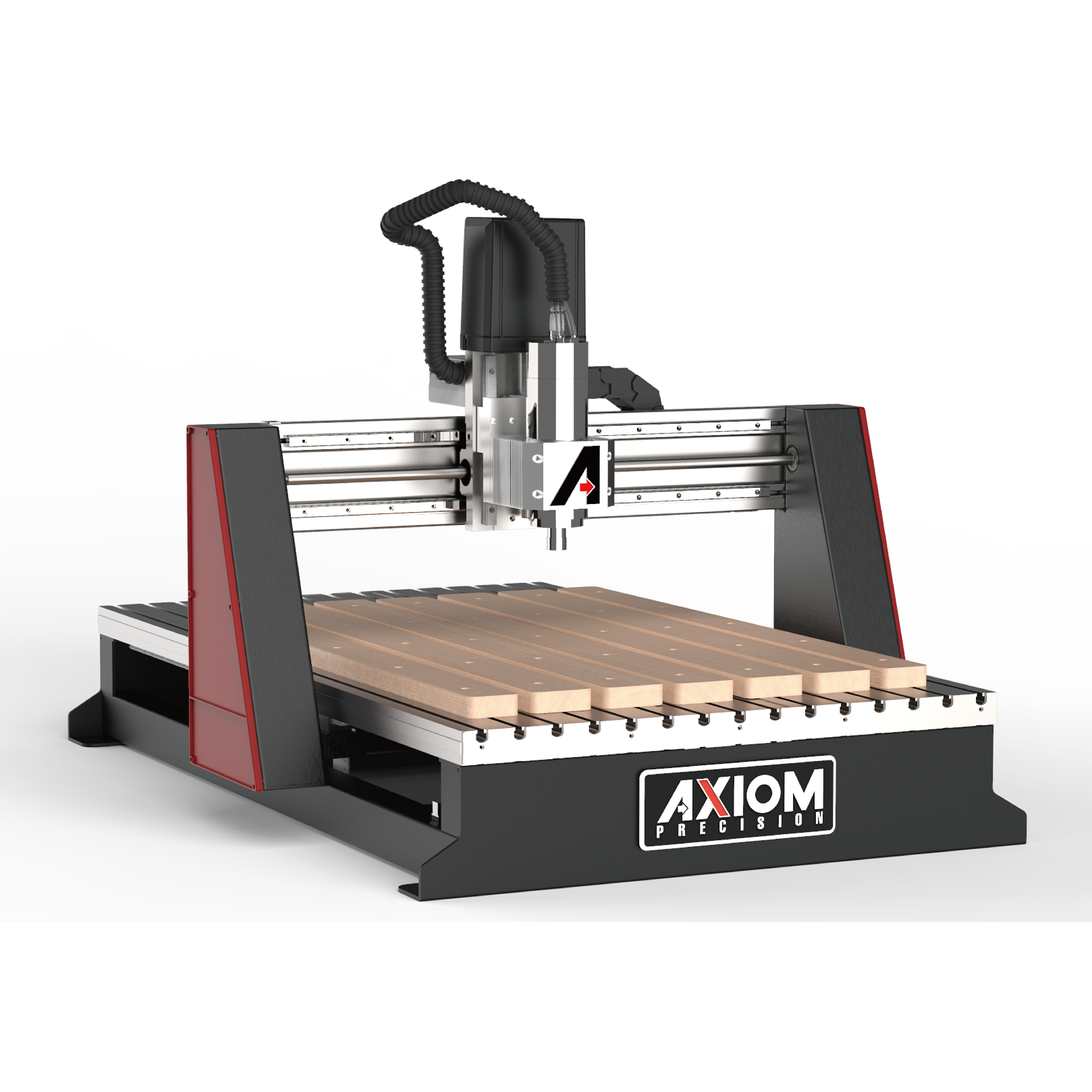 Features
Precision Ball Screws
The three axes use 16 mm thick precision ball screws for linear motion. Professional-grade CNC machines use ball screw mechanisms for linear motion as they provide excellent accuracy and have no backlash. However, ball screws have low friction, and the load can move it if not in place. 
Sometimes, if you are using a ball screw in the vertical axis, the Z-axis may not stay in place once moved up, the weight will make it move down. To remove this problem, use 48 V NEMA 23 stepper motors that prevent ball screws from being back-driven. That makes a rapid speed of around 300 inches per minute (ipm) possible. 
The speed is comparable to the Axiom speeds on other CNC routers. It moves on precision linear guideways machined with extreme precision to provide good accuracy and frictionless motion.
Software
The software does not come with the machine. Consider the following software depending on your needs: Vetric VCarve Pro Software V10, Vetric VCarve Desktop Software V10, Vetric Aspire V10, Vetric Photovcarve Software.
The controller does not require any additional software to operate. You can transfer G-code or M-code via a USB stick to the controller. Use a CAD/CAM software program for designing and generating G-code.
Using Vectric for CAD/CAM purposes is one of the best decisions you can make. The post-processor for Vectric software is available and reliable. If there are issues with the post-processor, you can request Axiom for your software. You can use any free or paid CAD/CAM software for designing and creating toolpaths.
Frame
The high rigidity frame keeps it solid and stable. The AR6 Pro V5 has an all-welded steel frame better than the aluminum frames used in most desktop CNC routers. As much as the frame comes with high-quality material, it remains affordable. 
It features aluminum rails that run underneath the spoil board. These prevent flexing of the spoil board and give rigidity to the overall setup. The gantry bridge is highly stiff aluminum extrusion, and the gantry supports using gravity cast aluminum alloy.
The working bed uses aluminum extrusions with an integrated MDF spoil board. The frame becomes heavy and of high quality. That helps damp the vibrations and is one of the differences with other CNC routers.
Assembling Stand 
Assembly for stands fitting all V5 series machines is the same. The only difference is the length of the cross braces. A router stand enables you to change the bits as you work, making it easier to modify the depth of the cut. You can easily accomplish multi-depth cuts with average woodworking experience, resulting in well-defined and smooth cuts around the edges.
Specifications
Controller
Toolpaths, created in the design software, are communicated to the CNC router through the handheld controller. On the V5 series machines, done through the RichAuto B18 controller. It does not need a computer for operation and can run the handheld controller for operating the machine.
RichAuto is a Chinese brand that makes controllers for CNC machines. Create G-code or M-code from the comfort of your desk and transfer it onto a USB stick, and plug it into the controller for running the CNC router.
The controller has 512 MB of internal storage to store files. When it comes to a power failure, the controller can save the process and resume the cutting after the power supply is restored, saving you precious time in resetting and reconfiguring.
Ball Nut Bearing Service
The rolled ball screws on each axis of any Axiom CNC machine feature a recirculating bearing. The assembly rides along the threaded shaft of the rolled ball screws, transferring the rotation of the stepper motors into linear movement along an axis. Each of these bearing assemblies includes a grease fitting for lubrication during your service. 
Interlocking Aluminium Table
It is lightweight but does not compromise the quality. It remains durable as if neither rust nor deteriorate. It requires minimal maintenance.
Uses
Woodwork
Advanced manufacturing
You can cut materials with this CNC machine like wood, plastics, phenolic, foam, composites, aluminum, and brass. With proper lubrication, you can cut through steel at a shallow depth of cut.
Available Size
It is a 24 by 36inch router. That is large enough to accommodate long materials. A table that is 22 inches to 36 inches long can support boards between 6 and 8 feet long. A wider table will provide better support for wider boards.
Durability
The steel frame makes the router strong. Steel frames have a higher strength-to-weight ratio than other construction materials like wood and concrete. For the same dimensions, steel frames can carry more load. The strength and durability of steel frames lie in protection against damages.
Assembly
The CNC kit arrives as parts and you need to assemble them. Axiom gives you a well-detailed assembly manual to guide you through the assembly process. You can assemble the CNC in around 5 hours. Adding a stand for the machine expects the assembly time to go up. The weight of the Axiom machine requires you to either have to help by lifting it in place.
Pros
Stronger
Faster
Great design
Higher performance 
Ease of use
Cons
Price
The Axiom tool is a higher-end tool that is worth every cent. Looking at its features, one might not find a reason to hesitate to make a purchase. 
Verdict
The Axiom router is a competing tool with more strengths than weaknesses. It is designed for long hours of operation and comes with a frame better than most CNC machines available in a similar price range. It produces parts with tight tolerances and good speeds, making it suitable for businesses that need to move volume. Axiom complements its great machine with excellent customer support and training sessions for its users.
Latest posts by David D. Hughes
(see all)