The Axiom Iconic 4 is one of the most accurate entry-level CNC machines on the market. The Iconic 4 machine has a well-thought design and has been tested, and offers a full range of accessories purchased separately to build the machine to your needs. That makes it easier to customize the CNC machine. 
Iconic 4 is measured 24 x 24inches and features a high rigidity extruded Aluminium frame, interlocking aluminum table, an integrated MDF spoil board, an automated tool touch-off plate, guides in all axes, precision ball screws, 1HP (800W) Electro Spindle and RichAuto B11 industrial 3-Axis CNC controller.
However, it does not include the Software. No computer is required. It comes with metal construction and a heavy-duty interlocking aluminum table with an optional stand and toolbox. The speed ranges from 0 to 24,000 RPM.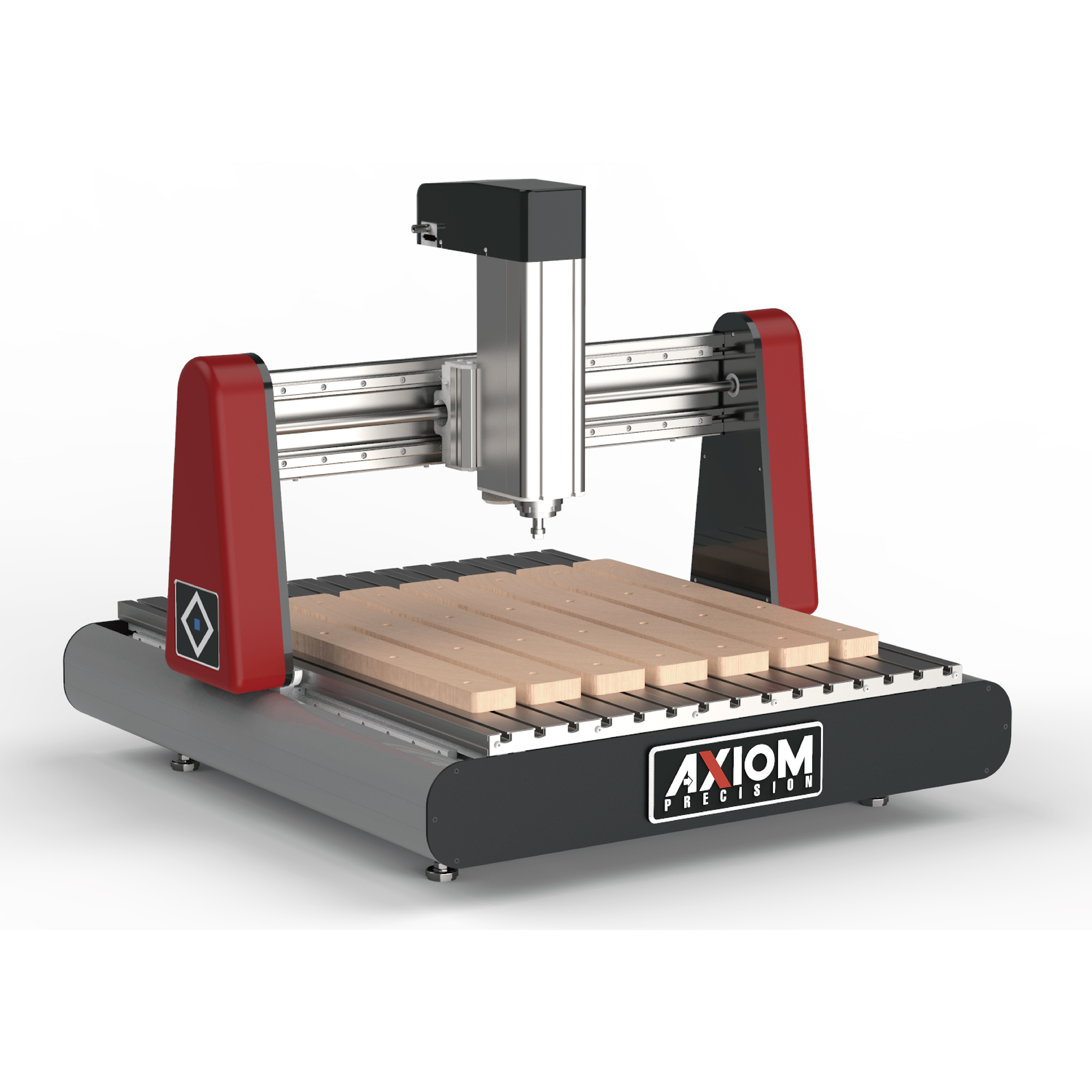 Pros
Accurate
Unique design
High rigidity
Cooling system
Ease of use
Cons
Features
Controller
Toolpaths created in the design software communicate to the CNC router through the handheld controller. In Iconic machines, this is done through the RichAuto B11 series 3-axis controller. These are either transferred using a USB Flash drive (USB2.0 of 8GB or smaller, FAT32) or from the internal memory. 
It has to be 512MB or more to support jobs of 1 hour run time or longer. It keeps any files used frequently. USB flash drives should be USB 2.0 8GB or smaller. The RichAuto B11 Keypad uses either single touch functions where buttons may perform one of many single tasks or if held down, will perform a task continuously (such as machine movement or combination functions, where two keys are pressed at the same time.
Software
Software is not included with the machine. Use any of the following software depending on your needs: Vetric VCarve Pro Software V10, Vetric VCarve Desktop Software V10, Vetric Aspire V10, Vetric Photovcarve Software. Compare the prices from different manufacturers. 
Spindle head
Movement of the router or spindle head is done manually in several ways. These are toggled between using the MODE button: continuous (default mode) and Step mode, use the internal grid settings for accuracy.
The default grid has two factory settings depending on the movement speed mode selected. That is either Continuous or Step mode, as the machine moves to the next grid distance. The movement speed mode selected is shown on the controller's coordinate screen display. To switch between these two modes, use the Fast/Slow button.
Setting Spindle RPM:
The Iconic 4 machine comes with a VFD inverter for spindle RPM control,  found on the front of the white control box. To adjust the RPM, turn the dial. Clockwise (right) to increase RPM and counter-clockwise (left) to decrease RPM. You are allowed to adjust at any time. 
A machine operation is allowed when changing RPM by dialling in as needed. The display shows the RPM in 60Hz frequency. Activate the spindle to display the frequency and change to actual RPM. The buttons on the VFD are for programming only and should not be used to set the spindle speeds.
Spoil Board surfacing
Surfacing the spoil boards included with the machine is one of the key steps worth following. Surfacing MDF strips ensures that the work plane is parallel to the path of the spindle while being perpendicular to the router bit.
The surfacing operation is simple to follow and pre-loaded into the handheld controller's internal memory. To set up and run this stored job, refer to the previous sections covering the setup of ORIGN locations and file operations.
Technical Specification
Speed
The speed ranges from 0 to 24,000 RPM. Adjust your speed depending on the theatrical you are working on. That way you customise your CNC machine. Too much speed damages some materials hence the need to know the Axiom speed that suits your material.
Precision ball screws
Professional-grade CNC machines use ball screw mechanisms for linear motion as they provide excellent accuracy and have no backlash. However, ball screws have low friction, and the load can move it if not in place. 
Sometimes, if you are using a ball screw in the vertical axis, the Z-axis may not stay in place once moved up, the weight will make it move down. To remove this problem, use 48 V NEMA 23 stepper motors that prevent ball screws from being back-driven. That makes a rapid speed of around 300 inches per minute (ipm) possible. 
The speed is comparable to the Axiom speeds on other CNC routers. The gantries move on precision linear guideways machined with extreme precision to provide good accuracy and frictionless motion.
Adjustable levelling feet
Adjustable levelling feet and heavy-duty casters make your machine portable. Although the CNC machine is heavy, there is a time you should move it. That is when you see the value of the feet. They make transportation easy as well. Adjustability helps you customise the CNC machine according to your height.
Aesthetics
It comes in a grey colour. That makes it blend with any other machinery as well as material. Even if you are working outdoors, it takes time to notice dust or dirt on the machine. It is rectangular, and all parts are made visible due to the design.
Uses
It makes each machine a 3D carving powerhouse, from large three-dimensional objects to fine furniture accents. It is quick to produce accurate 3D carvings.
Material and Durability
It comes with metal construction and a heavy-duty interlocking aluminium table. Aluminium is lightweight but does not compromise the quality. It remains durable as if neither rust nor deteriorate. It requires minimal maintenance.
Available Size
It is measured 24 by 24 inches. That is big enough for large materials. As much as the CNC machine is heavy, it is understandable for an industrial machine. 
Price
It is on the lower end of the pricing scale. The mentioned features make it worthwhile. That makes it convenient for users with a tight budget to afford to buy the model. The price makes it a target for starters.
Verdict
The Axiom Precision Model Iconic4 targets the first-time CNC user, with the Iconic lineup supported with a comprehensive manual and video library intended to ease the user's learning curve. The advanced CNC machine comes as a lower-end machine worth every penny. The Aluminium frame makes it more rigid, and that way, you can easily make precise cuts. Maximum performance coupled with experience yields better results. Make sure you get incredible software to keep up with the game. 
Latest posts by David D. Hughes
(see all)