The DEM-0906 is a tiny, lightweight, and portable little desktop CNC engraver that can engrave acrylic and ABS lithophane, EVA foam, styrofoam, modeling wax, plastic, and soft metal in addition to minor woodworking tasks. Tooling boards, toolboxes, miniature ornaments, and other miscellaneous tasks are among the items it can carve. The DEM-0906 portable CNC engraver includes software and tooling, frequently missing from competitive tables that cost more. The router is built to last and comes completely assembled.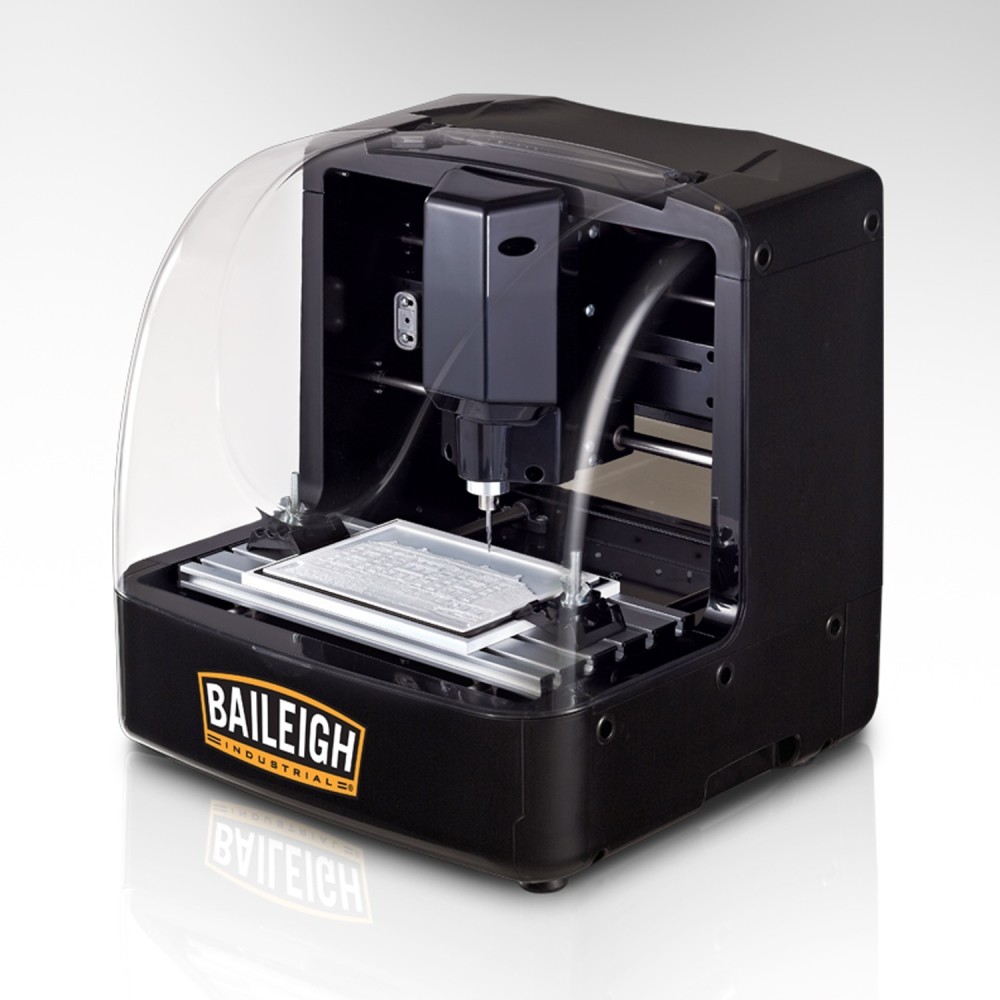 The milling paths created by the CAD-CAM Software and transmitted to the control device are processed by the CNC engraving machine. The tiny engraving machine is a lightweight device that you may readily transport from one location to another. It is valuable to mark, etch, or engrave letters or drawings on items. Businesses use it for both branding and labeling. It's a piece of effective technology that accomplishes its goals without ever touching the object.
Cutting and marking duties are completed without directly touching an object, ensuring the elimination of contamination. The compact portable engraver machines are versatile and provide consumers with many options. 
Furthermore, it can easily repeat tasks when given the correct instructions. Automated engraving tools are now available, reducing the requirement for hired labor and saving a large amount of money. Many firms directly provide customized engraving equipment to meet customers' specific needs. Depending on the power of your machine, it can readily work on metals, plastics, wood, and even paper.
Features
The table is 12.6 inches by 5.9 inches, and 110 volts power it.
Sign makers and hobbyists will benefit from this little CNC engraver.
150W DC brushless motor with variable spindle speed up to 20000 RPM
Easy-to-use design program; download and install it on your computer to design patterns.
Use the handy handheld controller to shift the spindle after uploading your design file to the table via USB drive.
Stepper motors move the spindle at a maximum speed of 98.43 inches per minute.
It contains a belt that drives X, Y, and Z-axis movement for precise positioning.
4 T-slotted clamps, laser engraver ready, fit on the table to support the material down for smooth cuts (sold separately)
The extruded aluminum table is structurally sound and will not buckle under material Weight or spindle strain.
The table is pre-assembled and aligned for a quick and easy set-up—it takes about an hour to uncrate the table and get going with the software.
How it works
The CNC engraver comprises four essential parts: the cutting bed, the spindle, the drive system, and the controller. The cutting bed supports the material while it is in the slicing process. The spindle is the component that performs all of the cutting. The drive system consists of an arm that connects to the spindle and allows it to move in three directions, while the controller instructs the component in which movement to push the spindle.
The spindle can roll and cut in three directions along the X, Y, and Z axes, thanks to the driving system. The X-axis moves from right to left, the Y-axis from left to right, and the Z-axis from left to right. And this permits the machine to carve some highly complicated and intriguing forms much more accurately and fast than a human-operated machine.
The controller must know which direction to drive the machine and how far to cut for it to work. This data is delivered in a digital format, such as a.dxf file. The transformation becomes a 2D or 3D picture using software like G-code. And this can be built into the gadget or installed on a different computer connected to it.
In practice, using a CNC engraver is relatively intuitive and straightforward. Depending on the size and complexity of the machine, the specific process varies. However, even the most complex machines are plug-and-play gadgets that require minimal operator training.
CNC engraving machines have become extremely popular in workshops of all sizes. They're simple to operate, don't make mistakes, and significantly speed up manufacturing. If you don't already have a CNC engraver in your workplace, now is the time to do so with the Baileigh DEM-0906 CNC Desktop Engraver.
Uses
Various sectors that deal with signs and signage
The ever-changing development of urban public amenities, the reconstruction and alteration of streets, modern residential quarters, hotels, office buildings, and other structures have resulted in a high need for international-compliant identification and guidance systems. 
Carved plaques, signs, and signs make up a significant portion of them. Engraving breastplates and department cards have been fashionable in recent years. Many big organizations have also replaced their company plaques with engraved ones to build a favorable corporate image and better internal management.
Handicrafts of many kinds
The CNC engraving machine is helpful in various industries, including arts and crafts, presents, tourist souvenirs, and others. Rings, keychains, trophies, medals, imitation crystal decorations, lighters, leather goods, watches, and other items get personalized with engraving. Carvings are helpful to create an increasing number of medals, awards, souvenirs, and promotional items for conferences and tourism activities.
Various industries involved in wood processing
In the fields of wood-crafting, wood decorating, and furniture processing, CNC engraving machines can perform lofting, perforating, slotting, piercing, and other wood crafts and furniture processing, resulting in considerable increases in product yield and production efficiency.
The CNC engraving machine can manufacture many excellent molds for building decorating materials such as gypsum ceilings, ceramic tiles, and floor tiles quickly and efficiently and is currently advancing in terms of quality and color variety.
Pros
It includes easy-to-use design software.
It's a versatile CNC engraving machine that can handle a wide range of materials with ease.
The machine begins to do duties consistently once the design specifications and constraints have been set on it, and it pays the price for flexible scalability.
The CNC engraving machine can work 24 hours, seven days a week.
This CNC engraving machine creates a safer cutting environment for materials.
It is simple to use but decreases the size; the design should be basic; otherwise, it would be challenging to construct.
It's transportable.
Cons
Cutting a variety of materials and thicknesses will necessitate numerous instruments.
When a tool becomes worn or broken, you must purchase new parts to replace it.
It comes in handy for modest projects.
Specifications 
The machine comes with the following specifications
Acme Tools Brand Name                                                           BAILEIGH
Acme Tools Part Number                                                           1022102
Assembled Weight (lbs)                                                              42
Cordless / Corded                                                                       Corded
Country of Origin                                                                        Taiwan
globalTradeItemNumber(GTIN)                                         00400022000895
PackageContents                                                              Engraving Table, Power Cord, USB 2.0 Cable, Controller, Allen Key 2.5 mm & Spare Socket Screw, Silicone Mat, Tungsten Carbide Tool, (2) Pieces Big & (2) Pieces Small Clamp Set, Support Board
Package Depth                                                                              21
Package Height                                                                             22
Package Weight                                                                            42
Spindle Speed (RPM)                                                                   20000
Table Length (in)                                                                          12.6
Table Width (in)                                                                             5.9
UPC                                                                                        400022000895
Latest posts by Herbert S Dawson
(see all)