The Shark SD120 CNC Machine is a 12" x 24" machine that can carve the most intricate and beautiful designs and signs. It comes with access to the 3D model library that comes with extensively detailed engravings. These will be of good use to beginners without inspiration. 
It is a modern product that makes use of a touch screen for control. This feature will allow the user to execute tasks with better precision. It will also guard against buttons becoming worn out.  It is pretty compact and will most likely fit into any home workshop for easy use.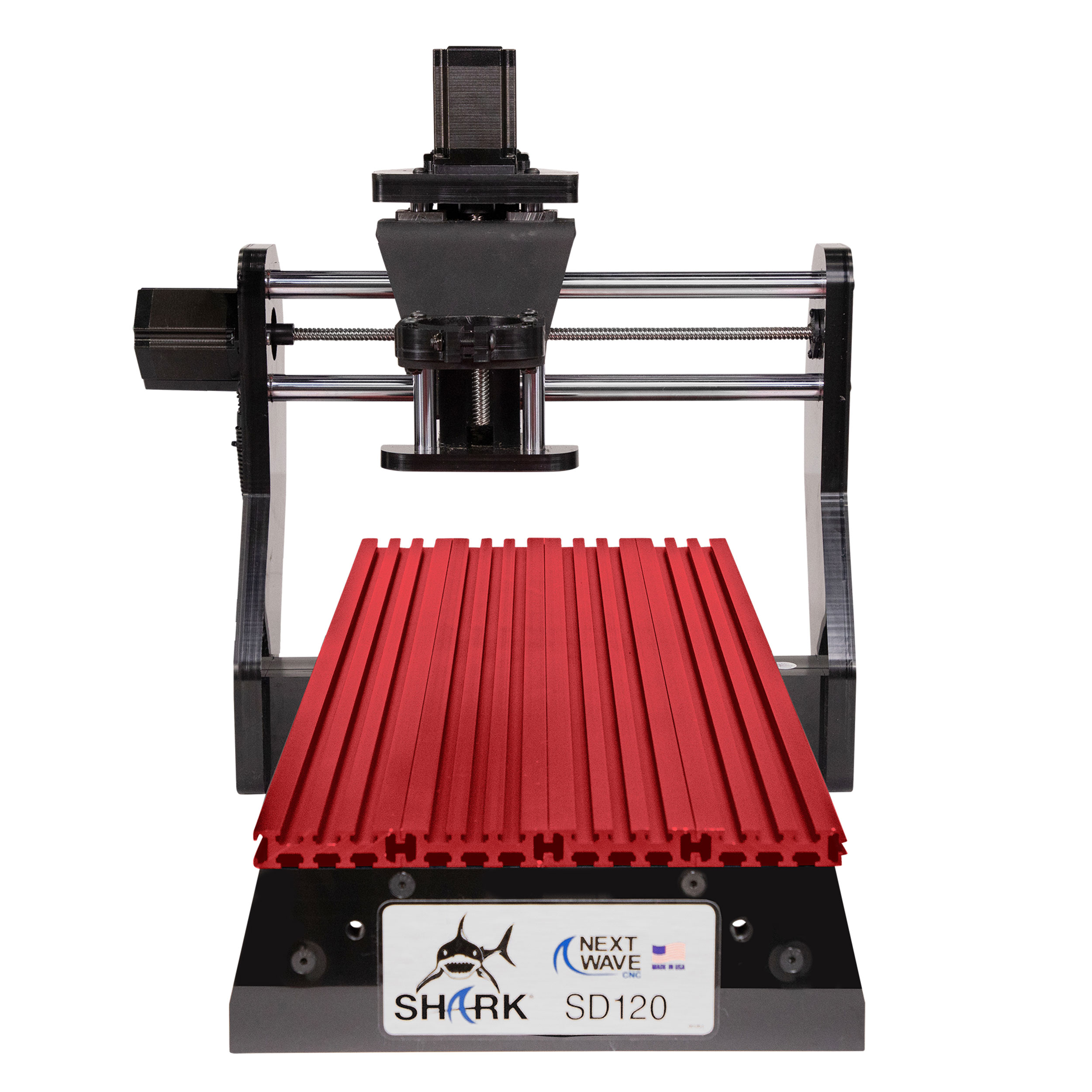 Owners with small home workshops will probably appreciate this feature. The pro design software included will help the user map out the geography of the material they intend to carve on. This means fewer mistakes and less wastage of material. The main components are made from aluminium and stainless steel. This means it is well protected against corrosion. 
For more information regarding some of the main features of this product, continue reading. We shall look further into the 3D model library,  the pro design software, materials used and whether or not the price is justified. At the end of the article, we shall summarise all these features and give a verdict on whether it is recommended to buy this product. 
Top Features
3D Model Library
If you are looking to do relief carvings but do not consider yourself one of the best and most creative artists out there, you can use the 3D model library that the manufacturers provide on this product. It offers you thousands of different designs that you can take up and carve into metal or wood. This is good for people who are beginners because it will allow them to get started.
The 3D model library is excellent for people who need practice before drafting freehand projects on the design software. It will give you an idea of how these designs are made to create very detailed engravings. If you are a hobbyist or a professional, then using this will allow you to add custom drilling functions to the machine as you require it. 
VCarve Pro Design Software
This professional design software is not relatively new to the market, but this is not your average option. They have made this very simple to use for people who are not necessarily tech gurus. Therefore regardless of your age and informational proximity, you should manage to make use of this software.
You can design the pattern that you want to go on the material with the colour touchscreen pendant that has been included in the product. After this, you will be able to quickly transfer it onto your computer by using a USB drive. The product also comes with virtual zero unlimited programmings, which will combine nicely with this software to adjust your designs for the material you are using.
The intuitiveness of this product is outstanding because it maps out the material you are using and can therefore change it to the design you have chosen. This is quite a haven for a beginner because it will prevent you from wasting any material when you constantly make mistakes.
Materials Used
If you were going to pay such a large amount of money for a machining product, it mustn't break down for quite a few years. The majority of this product has been constructed from aluminium that interlocks with many stainless steel components. This means that the product is very light and able to withstand any climate.
You can expect that for the next couple of years when you use this product; it will not rust nor dent very quickly regardless of the weight of the material you are using. The aluminium has been featured in this product because it makes it highly customisable in terms of how you can clamp the wood. How you attach the wood will go very far in assisting you in providing a very professional end product at the end of the day. This is because you will be able to position the material you are using for the best accuracy and precision.
Warranty
To build confidence in the durability of this product and manufacturers have included a full one year warranty that will come with the purchase of this product. The consumer will also be fully qualified to access any Technical Support that they may require throughout the lifetime use of this product.
Price
Considering that this is quite a small option compared to the other flagship models within this range, it is relatively cheap. It has been designed for small business owners or hobbyists who wish to work in their workshops. 
The materials used are of the highest quality, and therefore you can expect this to last you for quite an extended period. These materials include aluminium and stainless steel, which are well known not to rust. It boasts outstanding technology that will be useful for beginners in designing intricate inlays and complex 3D patterns. On this knowledge, it is fair to say that it offers enough value for money to warrant purchasing it. 
Verdict
In conclusion, the SHARK SD120 is an excellent option for purchasing if you are getting into woodcarving and machining. It is also an excellent product to buy if you have a small business that wants to produce items for sale. 
This is because the quality is always stable and consistent. The machine has a 3D model library that will give you a wide range of ideas to get you started on the journey. This will be very useful for beginners if you do not have any ideas of your own yet. 
It is made from aluminium and stainless steel components highly customizable, meaning you can guarantee they are reliable. It comes with professional design software that will assist you to come up with very complex 3D designs. 
These will be sure to take your business from one stage to the next in terms of the end product that you can produce. It is relatively cheap compared to some of the flagship models you can purchase on the market and from this manufacturer. If you combine all of these features, you will find that it is quite a decent product to buy, and this is why we would recommend it. Find out about the best cnc carving machine.
Latest posts by Herbert S Dawson
(see all)