The best garbage Tabletop CNC machines are identified by their performance and ease of use. The functionality of a Tabletop CNC machine is to provide CNC technology for the general public.
A regular tabletop CNC machine is not much different from other desktop computers because they are also computer-controlled. They also have similar functions that relate to design and engineering applications, but it's really just a compact version that you can easily take with you on the road. A tabletop type of CNC machine is a personal desktop CNC machine.
Tabletop CNC machines are very affordable and less costly compared to your other CNC machines, but they can still do a lot of things that can benefit you in your craft. It's a good investment if you want to save money. The only thing that might be a problem is the tabletop CNC machine frame and its design.
Tabletop CNC machines are very useful if you just want to cut out a simple shape from different materials for your craft. But if you want it to make complex designs, then this might not be the machine you're looking for. If you really need a tabletop CNC router machine that can make complex designs, then you should buy one that is bigger.
Tabletop CNC machines are great for beginners because of their affordability and functionality!
The price range starts around $500 to $1200 depending on the model you choose. But you can also find them below $500 if there's a sale going on for this kind of CNC machine.
This article will help you to pick the best Tabletop CNC machine that suits your needs and budget.
Desktop CNC machines
SainSmart Genmitsu 3018-PROVer Desktop CNC Router
The SainSmart Router is easier to use and comes pre-assembled, and the process takes less than 30 minutes when out of the box. It is an entry-level CNC for beginners, DIY and small business owners. The powerful CNC machine has an added life and high performance. 
It features Optocouplers to protect your mainboard from hard stops without damaging and eliminating signal noise for consistent projects and longevity. The aluminum body makes it more solid and adds stability for milling a range of materials. Acrylic safety baffles help contain dust and provide a safety barrier, making the cleaning process easy.
Benbox 1310 CNC Router
Benbox features a user manual and GRBL Software for easy operation, and the package includes a CD with installation instructions, saving time and effort. The working area is large enough to accommodate a variety of materials. 
The power supply is powerful enough to work on hard materials and the spindle motor and works on a wide range of materials. These include plastic, wood, acrylic, PVC, PCB, bamboo, and MDF. Engraving and cutting services are given to copper, aluminum, and soft metal materials.
Axiom Precision – Iconic 24″ x 24″ for Axiom CNC Router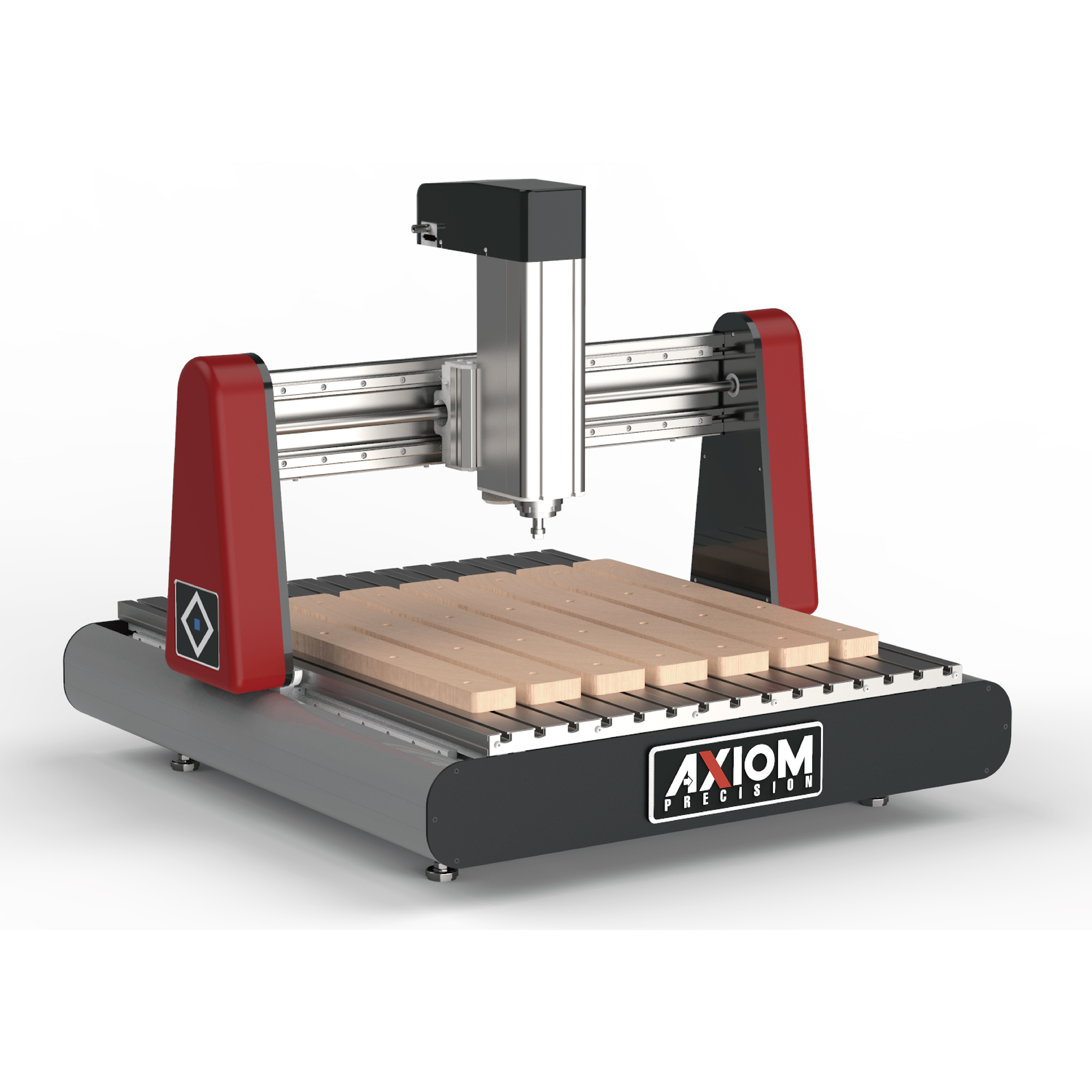 The Axiom Iconic 4 is an accurate, entry-level CNC machine on the market that features a well-crafted design. It remains tried and tested and offers a full range of accessories purchased separately to build the machine to your needs. Customization allows you to focus on your tasks without compromising quality and specifications. 
The high rigidity frame keeps it solid and stable. Some of its features are the Interlocking Aluminium Table, Auto Tool Touch-off Plate, and precision ball screws. The only drawback is that Software does not come with the machine.
Tabletop wood CNC machine
Genmitsu CNC Router Machine PROVerXL 4030 for Wood
The router is easy to set up as it comes pre-assembled, reducing the effort of assembly and time. A new, redesigned control box and drive system for high power. It is an affordable product since there are no additional parts required. Everything you need out of the box, including the accessories and components.  
Precision and performance describe the router.  Stability and versatility make it ideal for cutting, drilling, and carving operations on various materials including wood, MDF, plastics, foams, vinyl, and aluminum. It has to suit your needs.
Next Wave Shark SD110 CNC Machine
Next Wave Shark SD110 CNC Machine comes with a convenient touch-screen interface. A compact 12 in. x 18 inch table makes it ideal for smaller-scale projects like cabinet making. With its 3D carving capability, you can carve and reach complicated positions such as corners. 
The CNC Shark SD110 base unit has incredible accuracy that you can even engrave cabinets with it. Creativity is not limited, and the compact machine easily fits on one end of your bench. There is no need to have your computer in a dusty shop environment.
Comgrow ROBO CNC Router Kit GRBL Control 3 Axis Plastic Acrylic PCB PVC Wood
Comgrow comes pre-assembled, and that saves your working time. The CNC machine is for woodworking and is easy to use. Ubox, lock six screws and you are good to go. Customized settings make the operation easy and less straining. 
The metal CNC machine cutter has a rotate speed control system featuring two alternatives of CNC mode. That is adjustable rotate speed mode and constant rate mode. Set the rotate speed in terms of the characteristics of the material, and do the perfect milling job. The offline controller allows you to transfer files to an SD card, and no PC is needed. The emergency stop button makes it a safe tool.
Tabletop milling machine CNC
Masuter 4040 CNC Router Machine, 3-Axis Engraving Milling Machine
The Masuter router machine is a budget-friendly CNC machine that does not compromise quality. It has a working area of 400x380x55mm, which is large enough to accommodate longer and thick materials. The control board features an upgraded 32-bit chip that is more efficient and stable, bringing high performance in whatever task you are running. 
The Masuter 4040 engraves, cuts, and drills multiple materials such as wood, acrylic, and resin. The emergency stop button ensures your safety as it allows the machine to go home with a single press of the switch button, with the parts coming assembled, taking a short time on the remaining ones.
RATTMMOTOR CNC Router Machine Kit GRBL 3 Axis DIY Mini 1310 CNC Metal Engraving Milling Machine
The working area is measured 126mm×88mm×38mm and frame size: 281mm×281mm×287.5mm. That is large enough for wide materials. It features a simple assembly and it is for enthusiasts or beginners. A  paper manual and USB flash drive which contains all the files make it even more user-friendly.
CNC 1310 machine engraves plastic, wood, acrylic, PVC, PCB, copper, aluminum, and carves standard shape materials, cylinders, and curved surfaces. You cannot shape non-standard carvings. Control the CNC machine by Grbl Control/Candle software after connecting the control board to a computer via a USB port. The control board has more functions such as support spindle PWM speed, limit switch, toolset. The CNC Offline Controller allows the tool to operate without connecting it to a computer. 
VEVOR CNC Router Machine 3018 CNC 3018-PRO 3 Axis PCB Milling Machine
CNC 3018 PRO is an upgraded version of 3018 CNC, and there is no need to reposition its components. That improves work accuracy and stability. The frame and fixed parts of aluminum, making the CNX machine solid. It is easy to assemble as it comes with instructions.
Connect to the computer via the USB port and be controlled by GRBL. An offline controller is for easy remote control without a computer. There is no need to download files, and the CNC 3018 Pro is for engraving all types of plastics, soft aluminum, wood, and cannot use the engraver to cut or engrave hard metal, jade, or other hard materials.
Tabletop CNC engraving machine
​​MYSWEETY 2 in 1 5500mW CNC 3018Pro-M Engraver Machine
It is a DIY Mini CNC machine featuring two 5mm acrylic baffles on each side of the CNC machine. It helps you monitor the engraving process. It curves text on daily materials easily. It is ideal for enthusiasts and remains a snow-efficient tool. 
It carves wood, bamboo, paper, leather, flammable plastic, PCB, PVC, acrylic and cannot work on metal, iron, glass, 201/304 stainless steel, jewelry, aluminum, or silver. The large Working area accommodates multiple materials, and a new control board makes the operation convenient. 
ATOMSTACK A5 Pro 40W Laser Engraver Master
It features a 5-5.5W laser power and cuts many kinds of materials. The new eye protection design allows you to observe the laser engraving up close without wearing goggles, and prevent pets from grabbing the laser spot. 
When the laser is not working and continues to irradiate, the machine automatically stops to prevent fire. That makes it a safe tool.  The installation method is easy and allows you to adjust power and speed for efficiency.
OMTech 40W CO2 Laser Engraver
It features multiple advanced features that make it one of the best laser CNC machines. It has a digital control panel that makes it easy to use. It allows you to adjust laser head positions, power dimensions, and read documents on the digital display. It is compatible with third-party software.
The LCD power monitor displays an electric current. Close and press the start button to continue operations. The four wheels on the machine's base make it easy to move around your workstation.
BAILEIGH-1022102 Baileigh DEM-0906 CNC Desktop Engraver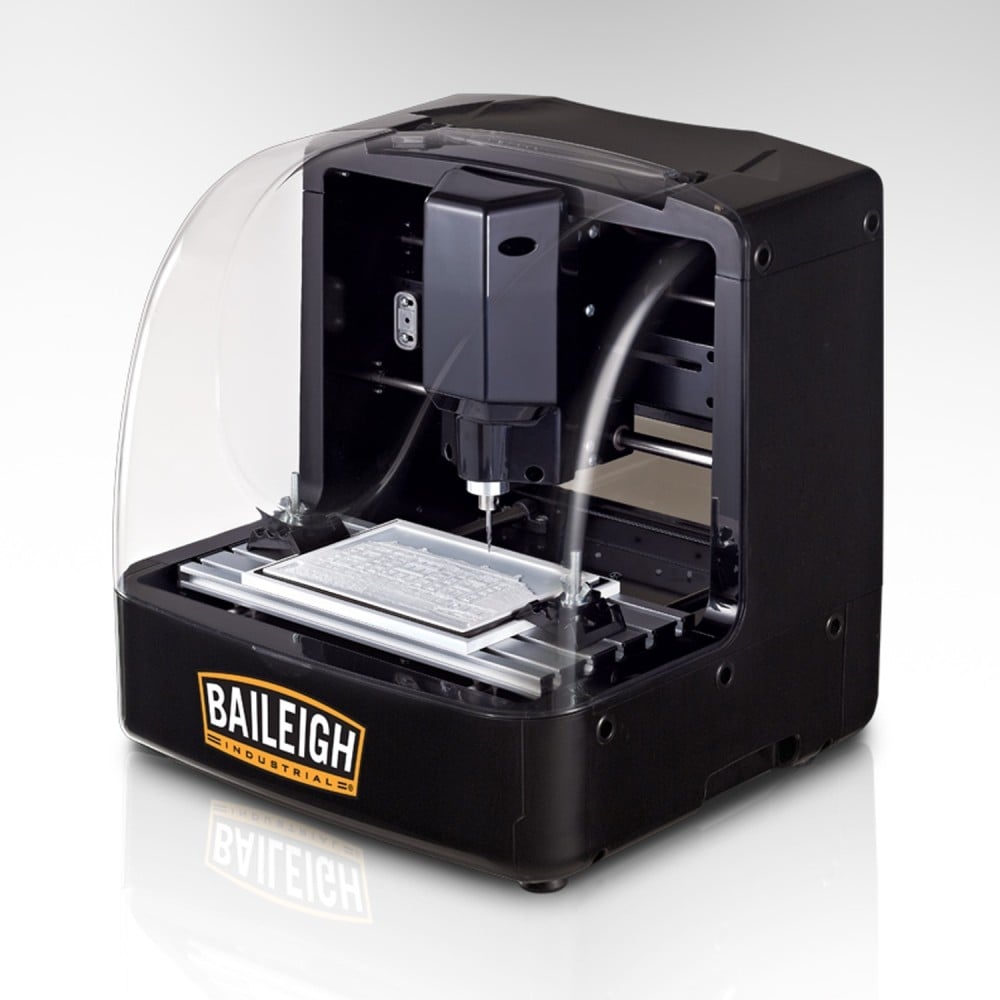 The router is a small, lightweight, and portable mini desktop CNC engraver for small woodworking projects, acrylic, and ABS lithophane. It carves products like tooling boards, toolboxes, and tiny ornaments. It is durable and the router arrives fully assembled.
It features a 12.6 in. x 5.9-inch table, runs on 110V power. The 150W DC brushless motor runs up to 20000 Rpm variable spindle speed, making it a powerful tool. The easy-to-learn design software requires the user to install it onto the computer and create patterns. Upload your design file to the table using a USB drive, and use the convenient handheld controller to move the spindle.
What should you know before buying a tabletop CNC?
Before buying a table top CNC machine, ask the seller if they include software, power cables, and other components. Some sellers sell these items with their units, while some do not. Since you may already have the tools you need to operate your tabletop CNC tool, buy one without tools to save money.
Once you receive your unit in the mail, check whether all parts are included. If some material is missing or damaged, contact the seller immediately to resolve the issue before using it.
Take your time assembling the tabletop CNC machine and checking its entire structure for any loose screws or broken pieces. Contact the seller if you discover problems later on.
After assembling your tabletop CNC machine, test its functionality and adjust the direction, speed, and power until it operates smoothly.
Latest posts by David D. Hughes
(see all)