Are you looking for a belt sander? If you are a woodworker, you know that a belt sander is essential in your workshop. This blog post will introduce you to some of the best belt sanders for woodworking. We will also cover some factors you should consider when choosing a belt sander. So, if you are ready to learn more about belt sanders, keep reading!
What we looked for when choosing the best belt sander for woodworking
We started by considering the core features of a woodworking belt sander. A belt sander must have a powerful motor, adjustable speed settings, and a dust collection system to be the best. Additionally, we looked for belt sanders with sturdy build quality and a warranty.
Our experience alone is not enough to conclude. What do other woodworkers think? After looking at the features, we read online reviews from woodworkers who have used the belt sanders. We looked for reviews from reputable sources like stores and woodworking forums. Based on our research, we think the following are the best belt sanders for woodworking:
RIKON 50-151
It features a powerful 110V, 1/3HP motor, which spins the 5″ disc speed of 3450 RPM and the belt at 3340 sq. ft. / min for fast stock removal. The solid cast iron base has rubber feet to keep it from moving around on your bench, making it sturdy throughout the operation. 
It is for working on small craft projects like home decorations, jewelry, toys, and doll furniture. Both the belt and disc tables tilt from 0 to 45 degrees, adding a lot of versatility to this machine. It has two 1-3/4″ dust ports for easy dust extraction. 
The brushless induction motor in the metal case makes it last longer. Sealed ball bearings have carbon ABS wheels for belt support. It does not make noise.
Pros
Durable 
Solid
Adjustable 
No noise
Versatile 
Cons
Triton TA1200BS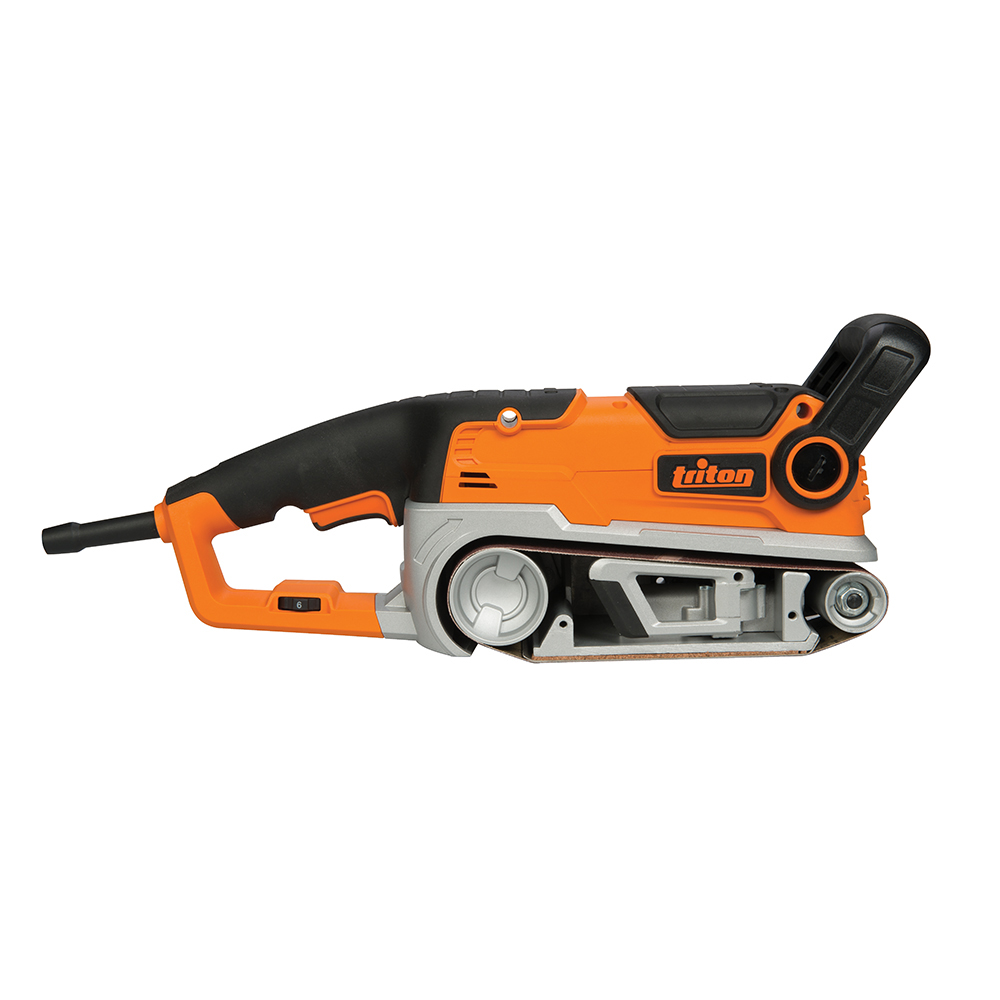 It features a 10A motor for rapid stock removal with variable speed control. The small diameter front roller sands confined areas and detailed work. Belt tracking adjustment makes accurate alignment of the sanding belt. 
The side dust port connects to the dust bag or vacuum system for effective dust removal. The Neon safety light indicates when power is available to the sander.  Variable speed control makes the sanding machine versatile.  
The Triton machine features a rubber over-molded grip for increased support, safety, and control. The belt tracking adjustment is for accurate alignment of the sanding belt. Lock-on button makes it convenient. Easy access brushes allow changing of worn brushes.
Pros
Versatile
Accurate
Quick
Increased support
Convenient 
Cons
Powermatic 1791292K Model 31A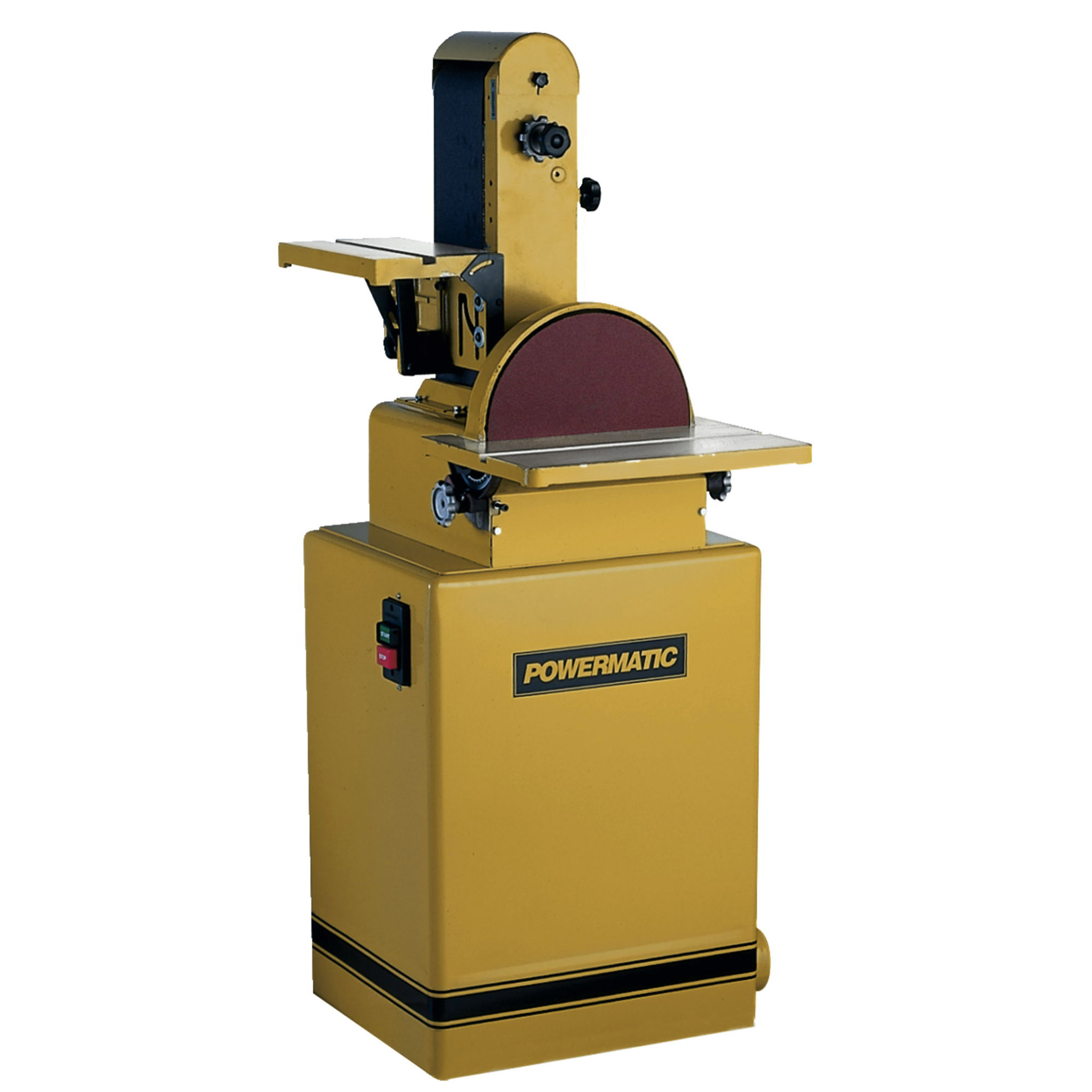 The Powermatic tackles demanding tasks. The cast iron construction allows metal and woodworking on the same machine, and the Integral Dual Dust Port keeps both belt and disc portions clean, extending abrasive life. 
The table mount is used vertically, horizontally, or angled to accommodate diverse jobs. The belt head has an indexing pin with stops at 0, 45°, and 90°, and the headlock allows use at any angle in-between. 
Removing the top guard allows contour sanding, and the cast iron tables with miter gauge slots and positive stops make set-up fast, accurate, and simple for any angle.
Pros 
Precision 
Solid
Fast
Simple
Powerful
Cons
Requirees some adjustment 
Manpa MP21-14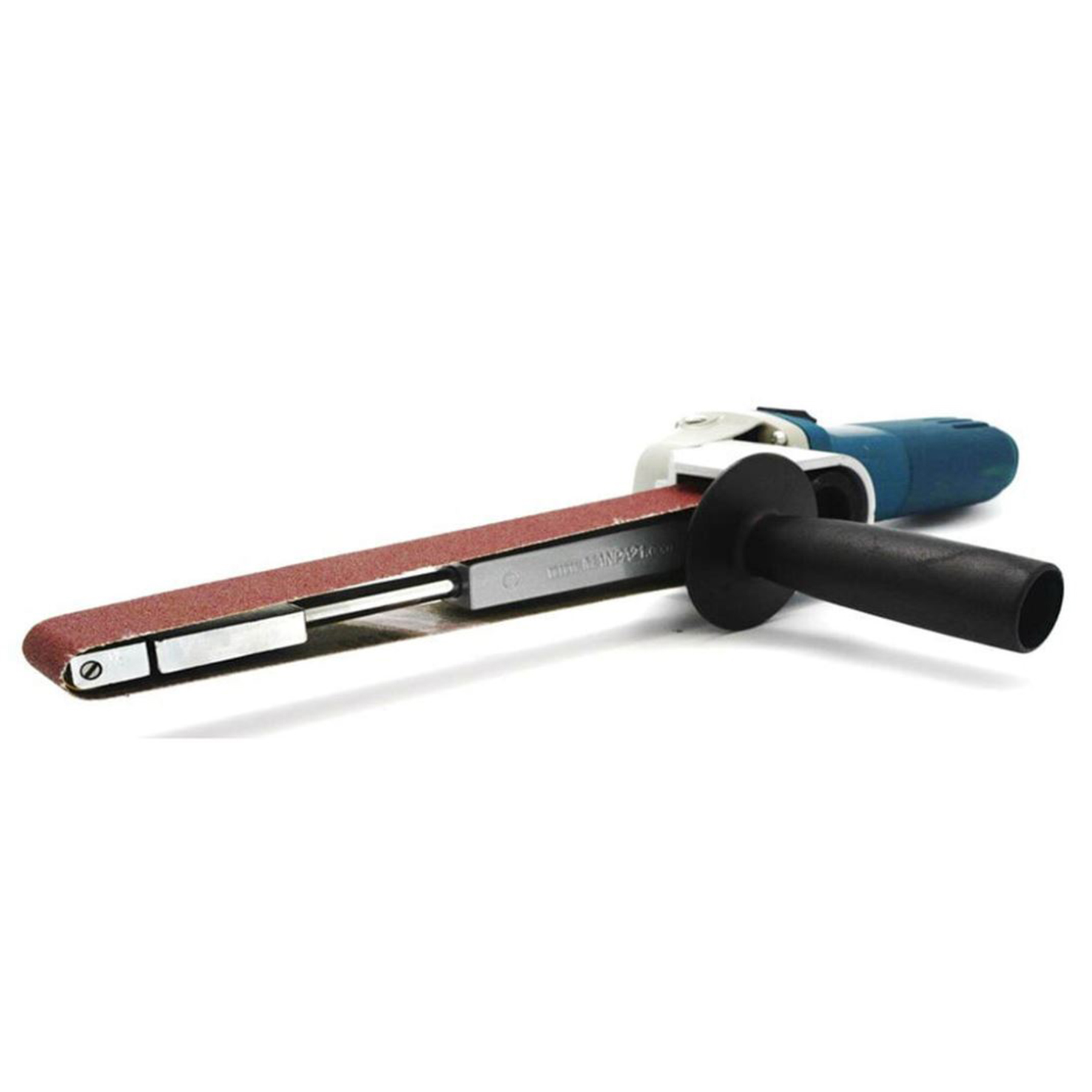 The Manpa Belt Sander 5/8″-11 attachment gives a powerful sanding machine. The Belt Sander fits the 4-1/2-inch most-angle grinders. It is multi-directional and easy to operate at between 90 and 180 degrees. 
It performs better when fitted at between 15 and 30 degrees and is 1-3/16 inches wide by 11-3/4inch (300mm) length. 40 grit coarse sanding belts are included, and 100-grit medium sanding belts come separately. 
It comes with high-quality sandpaper and allows for a two-handed grip, promoting safety and control.
Pros
Versatile
Smooth
Fast
Powerful motor
Ease of use 
Cons
WEN 6502 T
Not to be confused with the WEN 6502, the WEN 6502T is a hybrid sanding machine with a 4-by-36-inch belt and a 6-by-6-inch disc. The belt tilts anywhere from 0 to 90 degrees. It features a sturdy cast iron base that prevents any heavy vibrations.
Sand whatever workpiece your heart desires. It comes with a 4.3 Amp motor that provides up to 3600 RPM. Its tension release lever provides simple changes between sandpaper grits.
Pros
Easy to use
Value for money
Adhesion
Lightweight
Accuracy
Cons
Makita 9403
The Makita 9403 is well known for its low noise (84dB). That gives you comfort when operating. It features a 4inch wide belt with a speed of 1,640 ft./min for fast material removal. The Labyrinth construction seals and protects motor and bearings from dust and debris for longer tool life.
What also brings comfort to the sanding tool is the large front grip. Its position makes comfortable usage possible, and its innovative design is for sanding flush to the wall with the nose and side of the sander.
Pros
No noise
Comfortable 
Fast
Durable
Innovative
Cons
May burn through the belt
BLACK+DECKER DS321 Belt Sander
BLACK+DECKER DS321 Belt Sander features a 7.0 AMP motor that delivers maximum power for maximum performance. An adjustable handle keeps you comfortable in different orientations and helps reduce muscle fatigue.
Black+DECKER  is a low-profile design tool that gives an extended reach for enhanced functionality and sanding vertical surfaces. It is for versatile operation even in tight spaces. The dust collection system improves the visibility of the work surface.
Pros
Improved visibility
Innovative
Optimum control
Unlimited runtime
Versatile
Cons
Not suitable for heavy duty workloads
WEN 6515T
The WEN 6515T Belt sander features 5-Inch sanding disc sands, smooths and deburrs edges, and splinters on your wood. The 2.3-amp motor makes speeds of up to 3160 feet per minute on the belt and 3450 RPM on the disc possible. 
The compact design makes transportation and storage easier, while the heavy-duty base keeps it sturdy during operation. A sturdy beveling work table accompanies both the disc and the belt giving a reliable source of support for your workpieces. 
Pros
Sturdy
Reliable
Efficient
Compact design
High quality
Cons
Can be difficult to assemble
BUCKTOOL BD61000
The Bucktool BD61000 features a 1.5 HP copper wire induction motor that is more powerful and professional than most woodworking machines. It gives a belt speed of 1836 feet per minute and a disc speed of 3450 rotations per minute and is quick.  
The steel stand has wheels and handles for easy movement, and the heavy-duty body design keeps it sturdy. The design is convenient and has an adjustable work table for different angle needs.
Pros
Powerful 
Fast
Sturdy
Convenient
Adjustable
Cons
Quality control could be better
JET J-41002
The JET J-41002 tool features a heavy-duty steel base, rubber feet, and cast iron construction. It keeps the sanding machine sturdy and has less vibration. Weight does not allow you to move it as you, please. 
The miter gauge turns and locks for standard angles. That is 45 degrees left and right. The removable platen allows sanding, grinding, or finishing outside curves or odd-shaped workpieces on the belt. Unlike the WEN 6502 T, it is a three-in-one tool belt unit that does the work of a jigsaw, coping saw, or hand file while removing material and finishing.
Pros
Sturdy
Versatile
Adjustable
Ease of use
Value for money
Cons
Metabo SB8V2 HPT Belt Sander
The Metabo SB8V2 HPT Belt Sander tool features a 9 amp 1,020-watt motor, forcible power for the most demanding sanding jobs. Regarding speed control, it has a variable speed dial at the base of the handle for various applications and improved manageability. The package includes an SB8V2 belt sander, sanding, and dust bag.
The clear front cover improves visibility against a surface, and the dust collection bag reduces airborne particles and keeps the work area clean. It comes with a 5-year limited warranty, and the flush surface design allows for quick and even sanding.
Pros
Improved manageability 
Ideal for tough sanding
Visibility
Improved dust collection 
Powerful 
Cons
The belt is prone to misalignment
WEN 6524 Oscillating Belt and Spindle Sander
WEN 6524 features a 1/2 inch, 3/4 inch, 1 inch, 1-1/2 inch, and 2-inch sanding drum sizes and one 4 x 24-inch belt, operating with belt speeds up to 1575 FPM and spindle speeds up to 2000 RPM. The onboard storage maintains the organization of all accessories and sandpapers.
The package includes a beveling work table, five throat plates, four rubber sanding drums, one belt sanding attachment, and six pieces of 80-grit sandpaper.
Pros
Fast
Multiple accessories 
Powerful
Adjustable
Easy setup
Cons
Not as affordable as other options
Choosing a belt sander
When choosing the best belt sander for woodworking, a few things to consider. The size of the machine, type of motor, belt speed, and weight are some of the most important factors to consider.
The size of the machine is essential because you need to make sure it is suitable for the type of woodworking project you have in mind. A smaller machine may be sufficient if you only want to sand small pieces of wood. But if you're going to sand large pieces of wood, a smaller machine may be better.
The type of engine is also important. You should ensure that the motor is powerful enough to do your desired job. The belt speed is also essential. You should ensure that the belt runs fast enough to sand the wood quickly and efficiently.
Finally, the weight of the machine is also essential. You should make sure that the machine is easy to move to use.
Latest posts by David D. Hughes
(see all)