Chip carving is a very sophisticated art that requires fine detailing. When working on a carving project one should pay attention to every small cut being patient. When working on these projects that need detailing, one begins to appreciate the importance of razor sharp tools. Over time you also begin to see the difference between the knives that hold the edge and those which don't. Most choose their tools on how ergonomic they feel, but shouldn't be the only criteria one chooses their tools on. 
| Image | Name | Link |
| --- | --- | --- |
| | Flexcut Chip Carving Knife | |
| | BeaverCraft C8 | |
| | BeaverCraft Chip Carving Knife C2 | |
| | PFEIL "Swiss Made" Chip Carving Knife | |
| | Elemental Tools Whittling knife | |
The ideal knife will have to be very comfortable to the hand allowing you to work long hours without any pain or discomfort. It shouldn't only be comfortable but have the ability to maintain a sharp edge for the longest time. Because always sharpening is not only boring but also means your knife will not last long due to the corrosion during sharpening. Without any further ado let's get to core business and discuss some of the best knives you can get for yourself.
Round Up of the Best Chip Carving Knives
Flexcut Chip Carving Knife
Flexcut has been in the knife making business for a while and have acquired substantial experience in the field. They are well known for quality products but the price may be a bite. Their KN15 knife is among the best chip carving knives. This knife comes ready to use with a very satisfying edge. The blade cuts smoothly into the wood due to its razor-sharp edge.
The knife can even give some results working with hardwood like oak. The shape of the blade allows you to take out big chips easily. The handle is very comfortable and is designed for long-term usage. Suitable for those first-timers who want to venture into chip carving with the ergonomically shaped handle that allows it to be used with ease but one would be a very serious beginner because this knife is really expensive.
Pros 
Sharp blade
Comes sharp out of the box
Very ergonomic handle
It is also available as part of a set.
Cons 
At the higher end of the pricing scale.
BeaverCraft C8
Small Cutting Knife – this is a tool for detailed wood carving. Its point is very sharp and opens a door to endless possibilities in detailed wood carving. It brings out the tiniest and finest details to any wood carving project. It comes ready to work from the manufacturer.
The blade can be easily sharpened but this comes with a huge shortcoming of losing it's sharpness very easily after not so long but the original sharpness can be attained too. The handle is rather small but surprisingly comfortable. Made of oak, the handle feels nice and smooth in the hand and allows one to work for long hours without much discomfort. The grip is great too allowing those vibrant details.
Pros
Comfortable handle 
The best for tiny details 
Comes sharp from the manufacture 
Affordable
Available as part of a set
Cons 
Requires some practice for best results 
Loses its sharpness in a short time.
BeaverCraft Chip Carving Knife C2
BeaverCraft is a company based in Ukraine, they make a wide range of tools and I have to say they make some of the best and all for a fair price. To show how serious this company is about quality, they are known for the best customer care replacing any of their products that do not meet the quality standards agreed upon. Their carving knife is among the best with no surprise, it feels very comfortable in the hand and comes sharpened from the manufacturer. 
The blade does not hold the edge for so long, holding its edge for not more than 2 days of continuous use but the razor-sharp edge is easy to obtain with easy sharpening. It feels great in both hands but it seems it was made with left-handed people in mind because it feels a little better in the left hand. The blade is firmly attached to the handle and the handle is made of Ashwood treated with natural linseed oil. The chemicals used in treating the knife may be leftover on the knife but a simple wash will remove the scent.
Pros
Reasonably priced
Comfortable handle 
Comes sharpened out of the box
Cons 
PFEIL "Swiss Made" Chip Carving Knife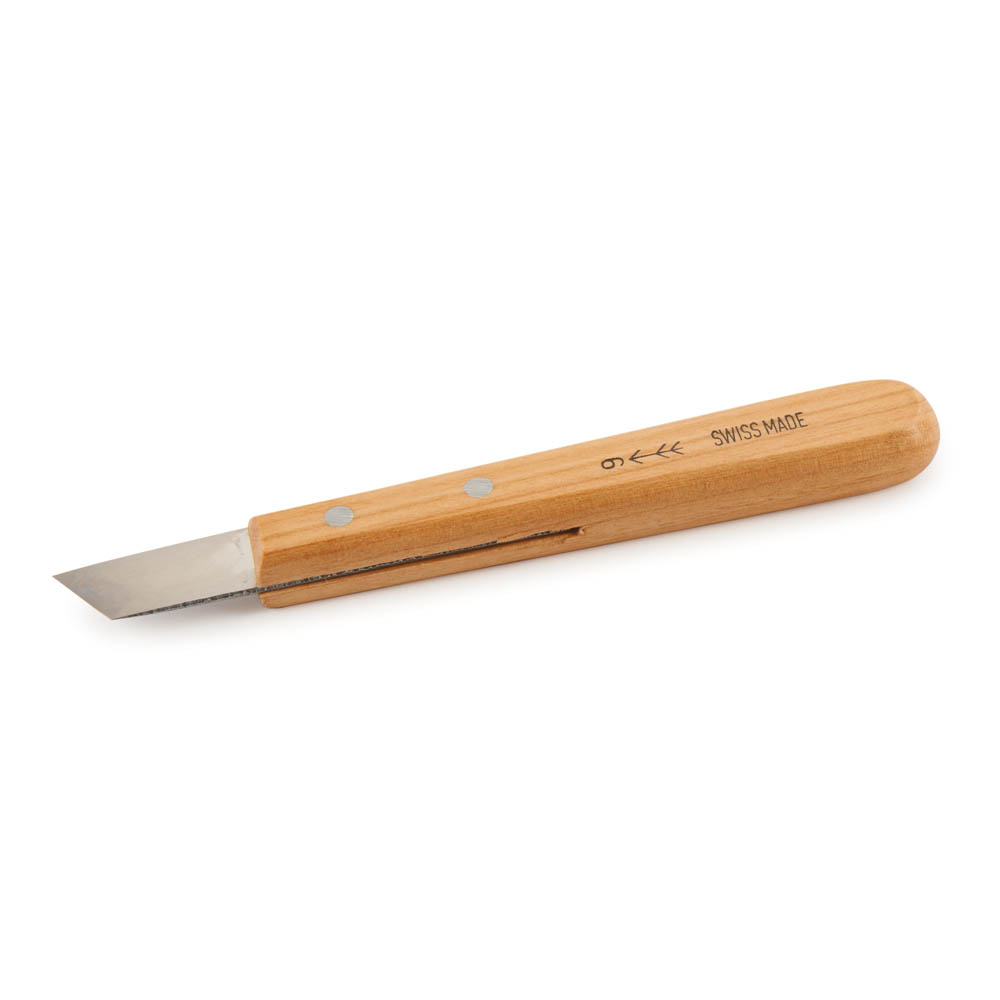 The Swiss are known to make the best of most things, this carving knife is no exception. It comes sharpened from the manufacturer and manages to keep its edge for a considerable amount of time, but the sharpness of the blade is somewhat questionable as it is not as sharp as some of its competitors.
It gives some of the best wood carvings and vibrant details. The blade is flexible which some people might find dis-satisfying as it might have some issues with some work in terms of model look. The handle is comfortable enough allowing long working hours and fewer breaks between sessions. One of the shortcomings is the fact that it's not suitable for beginners and requires some practice for best results. 
Pros 
Pre-sharpened from the manufacture 
Comfortable handle with a firm grip
Classic design
Cons 
Flexible blade
Not so easy to use
Elemental Tools Whittling knife
This tool has multiple uses and can fit perfectly in a whittling knife set. The knife has a wooden case that not only keeps the knife clean but improves safety as well. The blade is made from high carbon steel that keeps the edge for the longest time.
The handle is made from walnut wood which is not slippery especially when your hands get sweaty, and feels very comfortable in the hand allowing long hours of work. The blade is not fully sharpened from the manufacturer so one will need to sharpen it to its razor-sharp edge. People tend to dislike Chinese products but this knife is not so bad for the price they are offering it for. 
Pros 
The blade has a case
Comfortable handle
Affordable
Cons 
Conclusion
Wood carving can prove to be a great hobby and let one relax as they get lost in their work, but to get the best experience one needs the best tools. If we had to choose one, the knife we would recommend is the Flexcut Chip Carving Knife. This knife is an all-rounder and it is easy to work around for the beginners. Its only shortcoming is the pricing as it costs more than most of its competitors.
Latest posts by David D. Hughes
(see all)