Pfeil Swiss-made Model LS B
The Pfeil Swiss-made – Carving Tool Palm Handled Set B 6 piece are ¾" special alloy blades that have been hand sharpened to provide you with carving versatility and precision. They are Swiss-made blades that will work exceptionally well for woodblock carving. 
You will be able to perform intricate, deep cuts with these knives. The edges are durable and will not bend or break, regardless of the force applied. This makes them excellent for beginners who haven't learned the appropriate technique. 
You will be able to perform a vast host of different cuts. The manufacturer has included blades that can be part, gouge, and vein. The handles are made from hardwood and offer the user added control. This control is essential to improve quality as well as safety. This comes from the ergonomic design applied to the palm handles.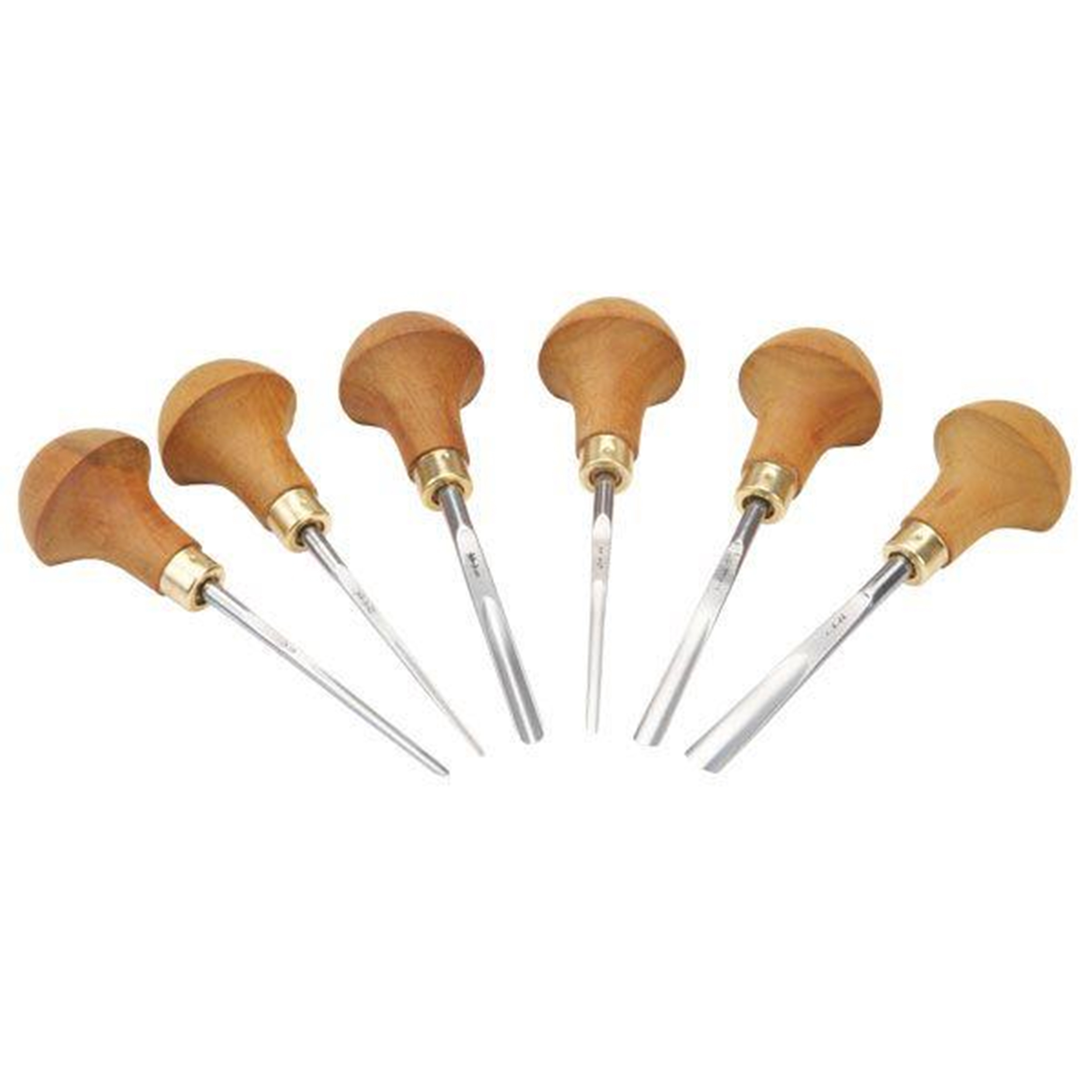 In the rest of the article, we look in-depth at the top features offered with the purchase of this product. This includes the product's versatility, the blades, and the handle. We shall also give our verdict on whether the product is worth the price you pay to purchase it. 
Flexibility
The versatility of the knives you end up buying will be crucial for the projects you can undertake. The manufacturers of this product have included a wide range of different blades that will allow you to perform many cuts. 
It comes with four different gouges, one parter, and a veiner. This means that you will be able to perform very elaborate and sophisticated patterns on the wood. This is what makes the product quite handy for beginners and semi-professionals. 
It comes with every tool that you might need to start your journey. This will allow beginners to taste the experience fully without losing quality. Carving is quite a delicate activity that requires great flexibility. This is because creativity has no limits, and the blade you use to carve should be able to handle anything.  
Sturdy Hardwood Handles
The hardwood handles on this product have been designed to give the user a firm and sturdy grip. The ergonomic design will allow these handles to fit right in the palm of your hand. The blades are round, meaning they are defined as palm handles. This means that you should be able to control the blades safely. 
Palm handles are well known to relieve carvers who need to perform low cuts. When you use this type of handle, it is unlikely that the tool will quickly begin to roll out of your hand. The handle has been chemically preserved to prevent it from rusting or corroding. This makes it a safer and more secure option. 
This goes a long way in assisting the product to be more durable. It has also been designed to avoid splinters from penetrating your palm as you work. This means you do not have to wear safety gloves while carving. The only disadvantage with a hardwood handle is that it can often become slippery if someone's hand is a bit sweaty. It is common for people's hands to get sweaty while working in the workshop. 
Alloy Steel Blades
You should do woodblock carving easily because the blades are four to three-quarters in length. You can expect reliability and precision when dealing with these blades because they are made from special alloy steel. They have come pre-sharpened and will be helpful to you straight out of the box. 
These blades are solid and treated with heat to prevent them from bending or breaking upon exposure to intense force. This means that you should be able to hit these with a mallet if you intend on making more pervasive cuts. The intricacy you can attain in your wood carving projects with these blades is off the charts. They are sharp enough that someone who has not necessarily mastered carving techniques should easily handle simple carving tasks.
Warranty
There is no warranty provided for this product.
Price
It is fair to say that this product is quite expensive because it only comes with about six blades. One might think this is not a fair representation of all the categories you need to begin your woodcarving journey. However, the material used to form the blade and handle is of very high quality. 
This somewhat justifies the steep price required to purchase this set. The handle has been chemically preserved to prevent it from rusting; therefore, you can trust that you will have this for quite an extended period. The blades are made from special alloy steel and have been pre-sharpened by hand to allow you to perform intricate and elaborate designs.
Verdict
In conclusion, this is an excellent option for beginners and semi-professionals who wish to carve wooden projects in their home workshop. It would help if you handled very complex projects with great ease due to the unique alloy blades that come pre-sharpened. The manufacturer has employed people to hand sharpen these products for superior quality. 
The durable handles are made from hardwood which will not rot or split when applying heavy pressure. This means that you will perform intense, low cuts to different woodblocks as the user. The design of these handles will feel very natural to the palm. It will not feel quite slippery unless your hands are sweaty. 
In this case, you might purchase a pair of worker's gloves. This set of knives has excellent versatility, and the manufacturer has ticked off three boxes. It should be able to handle gouging, parting, and veining. Therefore, we would recommend this product because of its excellent versatility and high-quality precision. As a beginner, you should take up a host of new projects to get a natural feel of the hobby. Find out how to carve an axe handle.
Latest posts by Herbert S Dawson
(see all)