Choosing between the Bosch GCM12SD vs DeWALT DWS780 may not be as straightforward as you imagine. They share a 12″ dimension among other features. It doesn't help that their blade speed is also similar at 3800RPM. So, how does one choose between these two miter saws? We start by comparing the rest of the features. Once you know the features, you can consider how they fit into your needs. I would encourage you to put brand preferences aside before settling for one. Let us have a look at how they compare. 
Bosch gcm12sd
The Bosch GCM12SD is a durable, precise, and consistent miter saw, with a patented axial-glide system. It features the Axial-glide system, a smooth, innovative, and professional system that allows the saw to be closer to the wall. That keeps it balanced and saves the workspace. 
The trigger handle has a soft grip that makes the experience comfortable. The Bosch GCM12SD is easy to use. The upfront bevel controls give you easy access to the miter saw. The square lock fence aligns 90 degrees to the table, and no adjustments are required. 
The dust collection system collects up to 90 percent of the produced sawdust. The cutting capacity is 14inch with a 6-1/2 inch vertical capacity against the fence. The metal, bevel lock gives you quick and easy bevel settings. The miter scales are easy to read.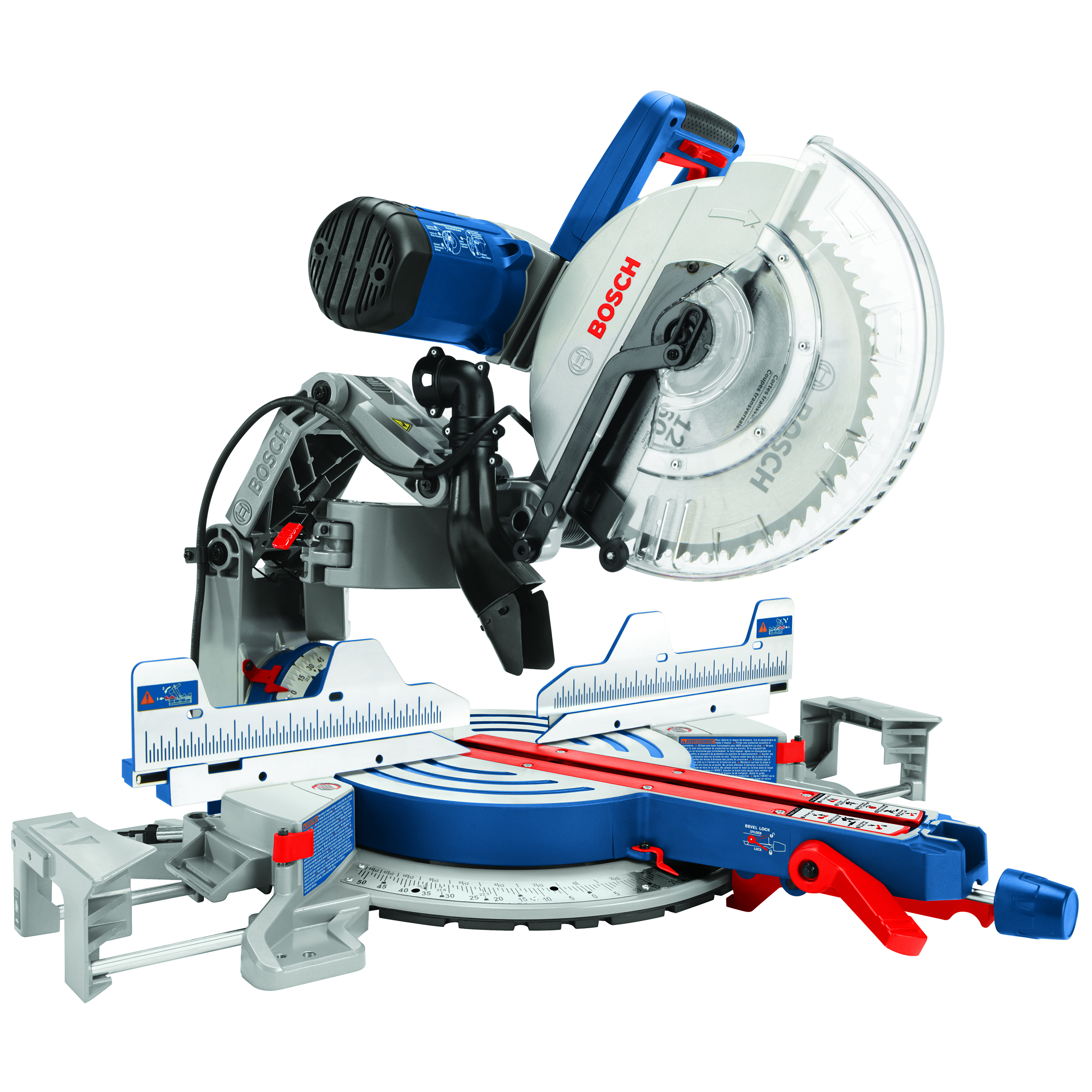 Pros
Accurate
Ergonomic design
Compact-sized
Patented Axial-Glide system
Smooth cuts
Durable design
Cons
No adjustments
No laser line
Dewalt dws780
The Dewalt DWS780 miter saw has a 15 Amp motor that produces 3,800 rotations per minute. The XPS crosscut positioning system makes it a unique saw tool. It allows the saw to run through thick materials with ease. 
The handle has an ergonomic design, making it comfortable to handle. The dust collection system collects up to 75 percent of the dust saw. It also features a carbide blade which is fast and sharp. The bevel angle adjustments are easy and accurate. 
The miter plate has ten positive stops that allow you to make accurate cuts. The dual horizontal steel rails are innovative and have a clamping system that supports the material. The package includes a miter saw, carbide blade, blade wrench, dust bag, and a clamp. 
What makes the Dewalt dws780 efficient is its improved power and durability. Dewalt saw is so powerful that it can take multiple materials, making it ideal for different woodworking tasks and projects. The miter saw has an improved back fence design if you want to cut large materials.
Pros
Durable
Innovative
Accurate
Adjustable
Increased capacity
An efficient dust collection system
Cons
A bit heavy
Does not have a laser
Features of the Bosch gcm12sd 
Table 
Bosch gcm12sd allows you to adjust the miter table from 52° left to 60° right. The controls make it quick to adjust, and Bosch placed detents at standard angles to ensure that your often-used stops are accurate. They set the miter detents at 0°, 15°, 22.5°, 31.6°, and 45°, to the left and right. There is an additional stop at 60° to the right.
You can cut base moldings standing upright against the back fence. The maximum height for a straight cut is 3-7/8 inches. You can cut angles from 0° to 47° left, to a width of 6-3/4-inch.
Bevel angles
When you cut bevel angles with the Bosch GCM12SD, the limits are 47° left and 47° right. It has bevel stops at 0°, 33.9°, 45° and 47° left and right. The maximum size for a 38° spring crown molding angled against the fence is 5-1/4 inches. 5-1/2 inches when cutting from 0° to 47° left bevel. For a 45° spring crown molding angled, you can go up to 6 inches.
Brakes
The saw has an automatic electric blade brake. It stops the blade within 5 seconds of releasing the trigger. The brake is not adjustable, hence it requires monitoring and having the saw serviced if it should stop working.
Power and speed
The DeWALT has a powerful 15 Amp motor, and the no-load speed of the blade is 3800 rpm. That allows the 60-tooth blade a feed speed of 95 feet per minute with a chip load of 0.005 inches. The arbor size is a standard 5/8 inch diameter or a 1 inch with a collar. 
Power
The Bosch 15 Amp motor delivers three horsepower maximum and no-load speeds of 3,800 RPM. It is powerful, and it cuts many types of wood smoothly. 
Braking system
The brake used to stop the motor is an electronic brake. It should last a lifetime (Quora.com). 
Handle
The ergonomically designed trigger handle with a soft grip is different from the DeWALT, which has a handle to the right of the blade. The Bosch handle is a large form-fitting handle with two triggers and within easy reach of your left hand.
Features of the Dewalt dws780
XPS the shadow line cut indicator.
The DWS780 is sturdy and adjustable. It remains accurate without compromising speed during your use of the tool.
Bevel stop
It has a fast discharge bevel stop setting up to 49° left and right. The unique depth stop allows the saw to track falsework. The new quick-release bevel stop setting provides the accurate and simple setting of bevel angles up to 49° left and right. 
It features the easy-to-use miter and bevel controls making the tool fast and simple to change from one setup to another. The Cam action miter lock function makes miter setting faster and easier, allowing the user to adjust angles between 0° – 50° left and 0° – 60° right.
Miter lock
It also features a cam action miter lock, making your miter setting quicker and more efficient. It allows the user to work with angles between 0° – 50° left and 0° – 60° right (Diyspotlight.com).
Speed control
Electronic speed control is for adjusting cutting speed when using non-ferrous materials. Clamps are for cutting non-ferrous materials.
Sliding fence
The large dual sliding fence gives maximum support in large material cuts at any angle or combination of angles.
What could have been better?
Bosch gcm12sd 
Bosch GCM12SD should not require a few adjustments before first-time use.
A safety gear would have made it a better saw tool.
Dewalt dws780
It could have been a bit lighter for easy movement.
Ruler markings would have made it convenient to use. 
Similarities 
Both are easy to use and move around.
Both miter saws use the same size engine to drive the same size blade at the same speed.
They fall within a similar price range.
Differences between Bosch GCM12SD and DeWALT DWS780
Bosch's GCM12SD allows the saw to fit in a smaller area of the workshop than Dewalt's.
Bosch also cuts a wider range of angles than Dewalt.
Bosch is more durable than Dewalt.
The verdict 
So, which one will you pick? I will just reiterate that if you have limited space, I recommend going with the Bosch GCM12SD. Bosch and DeWalt miter saws are great tools that will improve any workshop. The difference between them is slight, but that separates the two. DeWalt is more versatile. Bosch is smaller enough to work in smaller areas. By now, you should have your best pick. 
Latest posts by David D. Hughes
(see all)